British Farmers Mark National Harvest Service with Online Celebration
by Ed Henderson | Farmers Weekly | October 2, 2020
Update: register here to watch online, then enter the Harvest Festival tent, then click Watch the Harvest Festival live, (link uses Zoom). You'll be assigned a meeting ID and a passcode. Enjoy! Update Part 2:  watch National Harvest Service here. (watch Damian about 16 minutes in, and his poetry reading appears to be a repeat from 2013)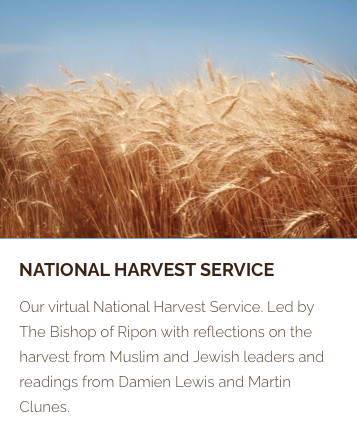 Campaign group 'Love British Food' has teamed up with organizers of the Greatest Online Agricultural Show for a virtual harvest service on Saturday October 3, 2020.
The event will be streamed live from 1:00 p.m., led by the Bishop of Ripon, Helen-Ann Hartley. The two-hour service will include a message from the Duchess of Cornwall, reflections on the harvest from Muslim and Jewish leaders, a bible reading from actor Martin Clunes and a poem read by actor Damian Lewis.
'Love British Food' established the National Harvest Service in Westminster Abbey in 2013, it was the first harvest service to be held in the Abbey in nearly half a century and every year since a different town or city across the country has played host.
Alexia Robinson, founder of Love British Food, said: "This year we thought it is not going to happen with church services curtailed, but the very brilliant David Hill, who organized the truly wonderful online agricultural show, got in touch and said let's do a virtual harvest service." In May, The Greatest Online Agricultural Show raised thousands of pounds for charity after the coronavirus forced the cancellation of farm events across the country. Ms Robinson added: "We have some lovely reflections on what harvest means to those of the Muslim faith and Jewish faith. There are some really important, poignant and powerful messages that are well worth listening to."
The Online Ag Show Harvest Festival will also feature a virtual harvest supper and, later in the afternoon, music in the virtual beer tent. The link to join will be posted on the 'Love British Food' website before it goes live at midday (around 12:00/1:00 p.m.) on Saturday October 3, 2020.
For detailed information about British Food Fortnight 2020, click here
Read the rest of the original article at Farmers Weekly here