A Night of Music by Tufnell Park Residents for British-Ukrainian Aid
by Gingersnap | damian-lewis.com | September 30, 2022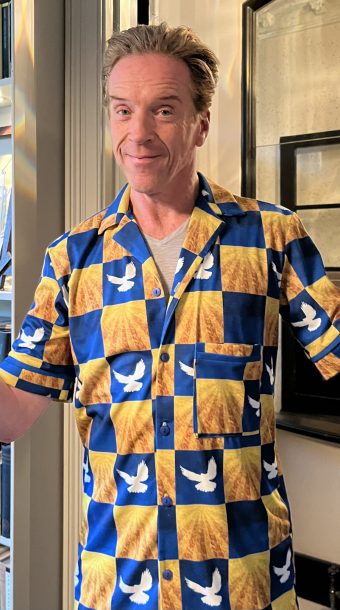 Damian encourages his locals to "Get down to the Boston Arms in Tufnell Park tonight and buy one of these oh so silky shirts for Tuff4Ukraine charity gig."
Boston Arms is a historic family-owned North London Irish pub and live music venue housed in an iconic Victorian building on Junction Road in Damian's neighborhood, Tufnell Park, London.
The pub will hold a charity event on Friday, September 30, 2022 to raise money for Ukrainian Aid with special guests Jack Flanagan, ROWSIE, Rachel Croft + 05ive 06ix and DJ Paul's Groove Shack.
For those across the pond, you can purchase the shirt from London fashion brand HotSquash here. For those in London, you can purchase £10 tickets to the event here.
Donations will go to the British-Ukrainian Aid, a UK-registered charity supporting humanitarian projects in Ukraine. British-Ukrainian Aid supports people suffering from the war and humanitarian crisis in Ukraine by aligning UK and Ukrainian efforts.
They offer assistance to vulnerable individuals who have been physically, mentally or socially disadvantaged, including the injured and wounded, orphaned children, the elderly, internally displaced persons and refugees.
Since the full-scale invasion in February 2022 their main focus has been providing essential medical aid to Ukraine. For more information about British-Ukrainian Aid, visit their website here.