Blue Chip Drama Makes It Mark
by Staff | Televisual Media | December 9, 2022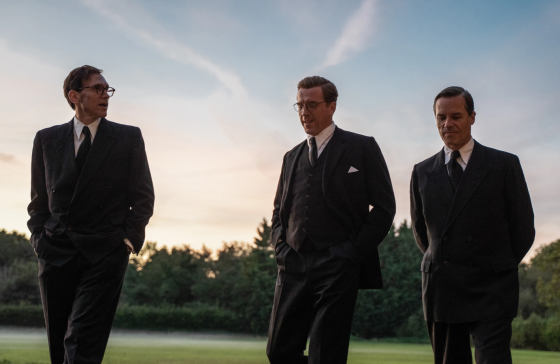 A Spy Among Friends is the first original drama to land on new streaming service ITVX. "It's a spy story, but larger than that, it's a story about friendship," says screenwriter Alex Cary.
The idea came in 2018, when Los Angeles-based Cary got a call from author Ben Macintyre's manager, who played squash at the same LA club. Knowing Cary had worked on US spy thriller Homeland as writer/producer, he suggested Macintyre's book A Spy Among Friends.
Cary, a fan of Macintyre's, set to work. He decided to set the main action at a point after Philby was exposed as a double agent, at the height of the Cold War, in 1963. This allowed him to imagine the impact of this betrayal on his colleague and friend Nick Elliott.
Cary invented the character of Lily Thomas, a strong, working class woman from Durham, who plays the pivotal role of an MI5 agent investigating Elliot, suspected of colluding with Philby when he defects from Beirut. "I didn't want to regurgitate the book, I thought that would be rather dry," says Cary. "I also wanted to have a modern steward for the viewer." He was inspired by Durham coal miner's daughter Fiona Hill, former Russia adviser to Trump, who testified against him during his impeachment. "I wanted her to be a working class woman who on paper was an affront to these posh British men in these corridors of power."
Cary and Damian Lewis are friends and worked together on Homeland. Having shared a first script, Lewis was interested. "We wanted to do something that was really ambitious in terms of story telling structure and was emotional in a surprising way," says Cary. "I didn't want to be in the business of making cookie-cutter bullshit, I wanted to do something that swung for the fences."
Patrick Spence, then at Fifty Fathoms and now creative director at ITV Studios, championed the project and Sony Pictures Television has the US rights, with Katherine Pope, now president of SPT, supportive throughout.
The six-part drama "is basically one six-hour film," explains Cary, "but each episode has its own story. It's almost like a floor at a time. Then it all becomes one house of cards." At its heart is the 1963 spy story. The tense relationship between Thomas and Elliott is "the spine from which I could then hang these other things," largely through interview and flashback. Parallel to this, we follow Philby's defection to Russia, "the second spine: Philby in Moscow, less plotty, much more character development."
Director Nick Murphy came on board in early 2020 in what Cary calls "a rare partnership. Before we went into prep, we went into every second of the thing, like two children with new toys at Christmas," says Cary. "By the end of that we knew we were on the same page."
For Murphy, this thorough preparation was crucial. "Alex was very certain about what story he was telling and about how it was going to be structured. We had real clarity about what show we were going to make."
Dominic West was originally to play Philby, but had to step off the project because of Covid delays and his commitment to The Crown. Enter Guy Pearce: Murphy had worked with him before. "I phoned Guy and he had said yes by the end of the phone call."
For the feel of the series, Murphy was looking for "an eyewitness reality, adopting the view of the characters in question." One of his chief references was the work of John Cassavetes.
Murphy relates an early meeting with Cary in London: "Alex said, 'imagine if we knew a secret and everybody else's life here is affected by it, and they don't know that we know, imagine how exciting that is.' Those thoughts underpin the visual approach – espionage is happening in a real world."
The pace is confidently measured, with the opening episode eschewing the use of on-screen graphics, despite switches in location and flashbacks. "For the first 20-minutes we have to sort of tell the audience how to watch this," says Cary.
"We graded the different locations in a slightly different way," says Murphy. Working with colourist Vince Narduzzo, they used a Dehancer LUT, allowing the appearance of different film stock. For London, it emulated Kodachrome, Moscow Ektachrome 100. And reversal stock in Beirut. "So, you feel a slight jolt when you're moving."
Murphy observes the cliché of recent dramas set in the '60s "delivered like a homage to '60s style." Mini skirts, vibrant colours, a flourishing, forward-looking, swinging decade. "I get drawn towards projects where I think you could do it really badly. The chance to do one really well and render the period properly was enticing.
"We were talking about a time in London before the 60s had really swung…it was grubby, grotty, everything was filthy…This is where the designer Paul Spriggs, costume designer Joanna Eatwell, make-up designer Kate Benton came into their own." Supervising location manager Charlotte Wright found suitably decaying locations. Think The Ipcress File. "This isn't a confident Britain, it's an anxious, weakened Britain."
Murphy created visual bibles from the outset. "Heads of Department rely on a clear brief…I'm obsessive about being clear." It was also vital to ensure mutual respect between all cast and crew. "It mattered enormously. When people feel it's the nicest job they've worked on, they feel empowered and they feel happy."
Murphy and DoP Nanu Segal watched Cassavetes together. "We clicked. She knew I wanted the relationship between the camera and the story, rather than a master storyteller pulling the strings.
Principal photography took place in London and Romania, finishing in Spring 2022. Bucharest stood in for Beirut, Moscow, Vienna and Berlin.
"I didn't want it to be too beautifully lit, I wanted it to feel like available light, practical light." They used the phrase 'ugly beautiful,' with occasional "beautiful, subliminal composition that adds to story and symbolism." Murphy and Segal were careful not to give it a "chocolate-box" or "glossy" quality that Murphy feels is over-used in drama. They deliberately created environments that weren't ideal, such as characters sitting in front of windows, not beautifully side lit.
"That goes to the editing as well. We didn't want to be obsessively on people while they're talking, we're on reactions as much as we're on people talking…It's a much slower pace… And it lags, I didn't want either editor – Matthew [Gray] or Edel [McDonnell] – to cut to someone because they're about to talk…It's subtle things like that which make the audience feel the filmmaker isn't in charge of the story."
They shot on an Alexa, using T series anamorphic lenses, "just gorgeous, amazing lenses, particularly at that 2:1 aspect ratio, the shape they give the rooms and the spaces was glorious." And, despite using a single camera for almost everything, didn't drop an hour from the shooting schedule. Using two cameras, Murphy says there's the temptation to overuse shots from the B camera in the edit. "You've got to put a camera where the story wants it to be."
They graded using the old, pre-digital system of 50 points of light and making only small adjustments. "We found the more we graded, the less authentic it looked. It sort of unwound the efforts made by Nanu and the designers," says Murphy. Cary used the expression 'pixel fuck'.
The sound mix was also simplified "as if we were limited by the technology of the day," says Cary. "It goes back to the brief: every part of the show has got to speak the same language."
Read the rest of the original article at Televisual