No One's Heard of Nicholas Elliott
by Sabrina Barr | Yahoo! UK News | December 9, 2022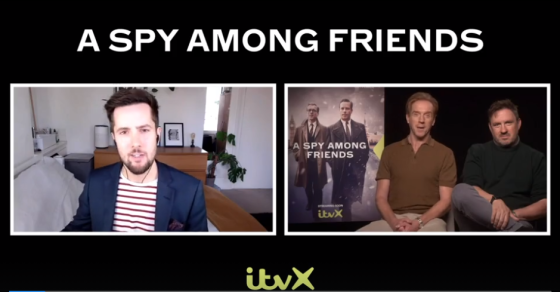 Host Johnny has Zoom interview with Damian and Alex Cary to discuss bringing to life ITVX's new thriller A Spy Among Friends. Johnny first compliments Band of Brothers as the best historical series ever made for television and thanks Damian for being a part of something so meaningful in his own personal life. When discussing Spy and how well-known the story and particularly Philby is, Damian shares,
"We worried, we have worried at times you know, [that] Kim Philby is so well known as part of the Cambridge Spy Ring of the 30's, but I think that's probably true of an older generation, that's right, and I think anyone that we hope will sit down to watch this, which is from 15-year-olds to 75-year-olds, but from the 15 to 40-year-old crowd, I think you're right. I think a lot of people won't know much about him. What appealed to us, at least to me, was that Nicholas Elliott, his best friend, is even less well- known. No one's heard of him."
Watch video at the source here.