Stranded at Reykjavík–Keflavík Airport
by Gingersnap | damian-lewis.com | December 18, 2022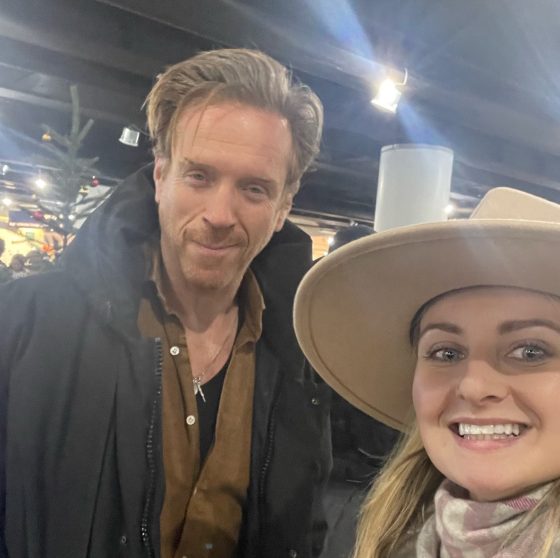 Damian was spotted in Iceland at the airport today! Apparently there was a day and a half of Icelandair flight delays and cancellations that stranded hundreds at Keflavik. There were reports of passengers sleeping on check-in baggage belts, escalator steps and even luggage carts. Damian was stuck, too, but no word if he was flying for business or pleasure.
Insider reported the following: Over Twitter DM, Caroline Rose (pictured above) described the experience as an "utter nightmare" and said she asked Lewis, who appeared to be waiting with his kids, for a photo — "I figured I'd ask for a selfie to have some sort of positive memory of the night," Rose explained. "He was incredibly kind!"
And according to People Magazine, Caroline Rose also shared "I saw him at baggage claim once we all found out we were really stranded at the airport (taxis and buses to the city were pretty much out of the question). It was a "brief but nice" encounter with the Homeland alum.
She adds, "I mentioned my fiancee and I enjoyed his work and he wished me good luck with my travels. I asked for a quick photo, given that was pretty much the only silver lining of an otherwise nightmarish night of travel issues. He was incredibly kind!"
Damian is now safely back in the U.K.
Scenes from Iceland after a day and a half of @Icelandair flight delays and cancelations that have stranded hundreds at Keflavik.

People slept on check-in baggage belts, escalator steps, luggage carts.

BTW Damian Lewis was stuck here too and it was awesome. pic.twitter.com/jMYE2lhbrp

— Caroline Rose (@CarolineRose8) December 18, 2022
Source: Twitter