"Russia Has Never Been More Topical"
by Stephen Schaefer | Boston Herald | March 12, 2023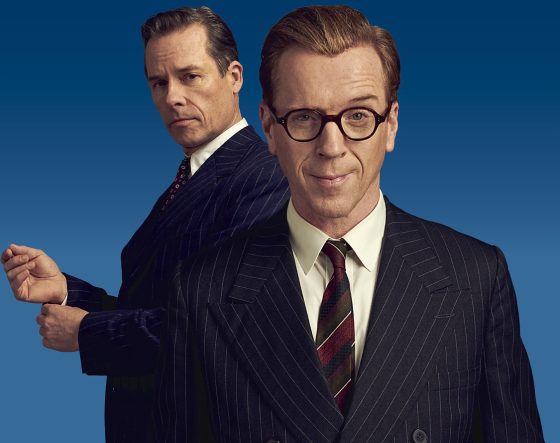 "A Spy Among Friends," streaming Sunday on MGM+, reflects on a key chapter in post-WWII espionage history when the Cambridge Five, a quintet of Cambridge University graduates, were exposed as Russian spies.
The most notorious and most damaging, guilty of a thousand deaths, was British MI6 officer Kim Philby, a double agent for the Soviets. He served in postwar Washington, DC and cleverly escaped exposure in the early 1950s when two of his fellow Cambridge spies defected to Moscow.
Stationed in Beirut in the '60s, he was confronted by his friend Nicholas Elliott and confessed. But before he would sign a confession he escaped to follow his fellow traitors to Red Square.
"Spy" stars Guy Pearce ("Mare of Easttown") as Philby and Damian Lewis ("Billions"), also served an executive producer, is Elliott.
A saga that spans 30 years, "Spy" offers a new perspective by examining the rupture between these two heterosexual best buddies.
"It was certainly a big challenge for the makeup girls and boys! They had quite a task making us look 30 years young," Pearce, 55, noted with a smile in a joint Zoom interview.
"Sometimes I write the storyline down in the different periods that it's happening and separate them," Lewis, 52, explained. "That's a good reference because we're filming out of sequence. In this particular case, you could quite typically be in 1936, 1941, '57 and '63 — all in the space of 10 minutes."
The notorious Cambridge Five have spawned many versions, but Lewis sees it particularly timely today. "To answer why anyone today should be interested," he said, "is we're dealing with Russia. And Russia has never been more topical.
"For anyone who thought that Russia was ancient history. Or that the Cold War had warmed up and was no longer a battleground, this was very much the beginning of the Cold War — and Philby was instrumental in that.
"And we're seeing now just what happens if you don't deal with problems. That makes it relevant. And even if you don't know who these guys were or have never even heard of what the Cold War is, it matters so much because here is a story about friendship and betrayal.
"A story about love, really, and the deep cuts and deep wounds that happen on a personal level where you're betrayed in the terms of these two [as spies] and their relationship. There's also the power of Philby's betrayal geopolitically, amongst the intelligence agencies, on a global scale.
"There's enough there for anyone to sink their teeth into and to really care about these two because the betrayal cuts so deep."
"A Spy Among Friends" premieres on MGM+ Sunday at 10 p.m. The six episodes will premiere weekly, new episodes dropping every Sunday.
Read the rest of the original article at Boston Herald