Top 10: Actor and All-Around Great Guy
by Nick Levine | BBC America Anglophenia | March 13, 2023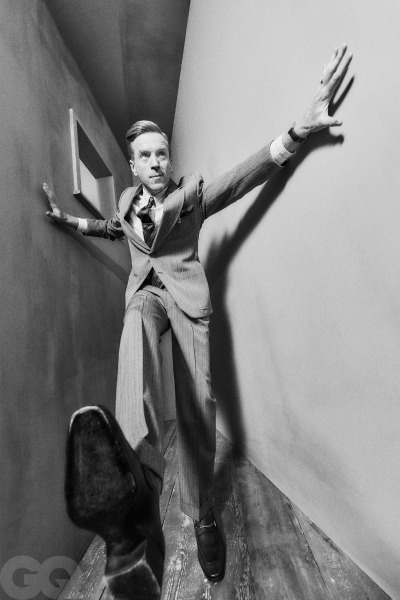 Damian Lewis is back in A Spy Among Friends, a real-life espionage series that has just premiered on MGM+. It's his first role since leaving Billions in 2021, so we're making him our British Icon of the Week. Here are 10 things we admire and appreciate about the affable English actor.
1. He is an Emmy-winning actor.
Lewis won in 2012 for his brilliantly enigmatic performance as Homeland's Nicholas Brody, a Marine sniper whom CIA officer ​​Carrie Mathison (Claire Danes) believes was "turned" by al-Qaeda while on tour in Iraq. It was one of the great TV series of its era, and Lewis's chemistry with Danes was nothing short of electric.
2. He also played King Henry VII.
In the BBC's award-winning 2015 miniseries Wolf Hall, Lewis excels as the British monarch whose appetite for divorce creates a constitutional crisis that allows his canny advisor Thomas Cromwell (Mark Rylance) to rise to power. Lewis captures the King's vanity, charisma, and fundamental selfishness impeccably.
3. He is a very decent soccer player.
On four occasions, Lewis has taken part in Soccer Aid, an annual charity event that raises money for UNICEF UK by pitting a team of celebrities against a team of bona fide football legends. Over the years, Lewis's Soccer Aid teammates have included Top Gear's Paddy McGuinness and Freddie Flintoff, plus his old Homeland co-star David Harewood.
4. He really helped key workers during the pandemic.
In 2020, Lewis and wife Helen McCrory launched #FEEDNHS, a charitable initiative that provided NHS health workers with free healthy meals. The scheme, which was backed by a variety of British restaurant chains including Leon and Dishoom, began in London before being rolled out nationally after amassing £1.26 million in donations.
5. He has definitely stayed down-to-earth.
During a 2012 appearance on The Graham Norton Show, Lewis revealed that then-President Barack Obama and First Lady Michelle had invited him to dinner at the White House because they were such huge Homeland fans. Lewis took the whole thing in stride, but definitely relished the once-in-a-lifetime adventure of flying to D.C. and back for dinner.
6. He has a playful sense of humor.
In 2018, BAFTA Los Angeles gave Lewis the Britannia Award for Excellence in Television – an accolade he has most certainly earned. His charming acceptance speech included, amongst other things, Lewis's recollection of the screen acting technique he learned from Michael Caine, which he uses as an excuse to deliver a very funny Michael Caine impression. He has the legendary actor's facial expressions down to a T.
7. He is a longtime ambassador for Christian Aid.
This British charity works to provide disaster relief and facilitate sustainable development in some of the world's poorest countries. Lewis has been on board since 2010.
8. He is launching a music career.
In an interview with The Guardian last November, Lewis revealed that he now intends to balance acting with songwriting and performing live. "I could have been a musician," he said. "And I've ended up trying to be one. I've no idea whether I'll be a good musician." He also revealed that his upcoming "rootsy, jazzy, rock'n'rolly, singer-songwritery-type album" is called Mission Creep. You can watch him sing his original song "Little One" below.
9. He was an adoring husband.
Lewis was married to McCrory from 2007 until her death in 2021; the couple has two children together. Shortly after she passed away from breast cancer in April 2021, Lewis wrote an incredibly moving tribute to her in The Times of London.
"I've never known anyone able to enjoy life as much," he wrote. "Her ability to be in the present and enjoy the moment was inspirational. Nor was she interested in navel-gazing. No real interest in self-reflection; she believed in looking out, not in. Which is why she was able to turn her light so brightly on others."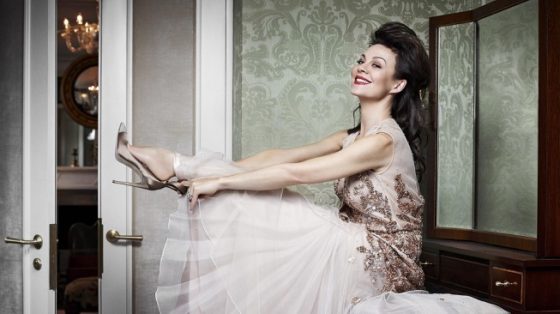 10. And finally, he can really do Shakespeare.
Lewis has appeared in stage productions of Hamlet and Much Ado About Nothing. And you can watch him recite the famous "friends, Romans, countrymen" speech from Julius Caesar below.
Read the rest of the original article at BBC America Anglophenia