Lewis and Pearce Make For a Formidable Pairing
by Simon Thompson | Forbes | March 15, 2023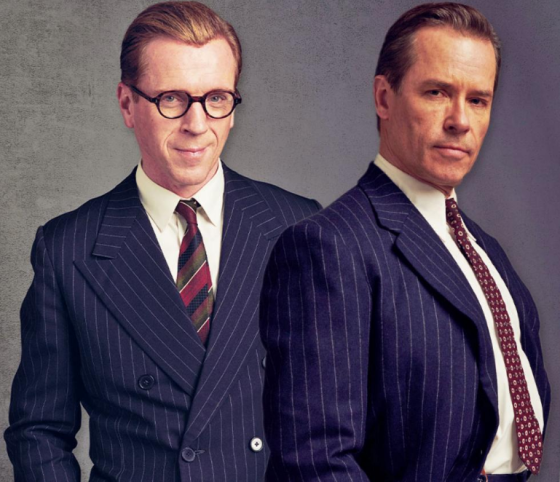 There is a simple explanation for why the story of Kim Philby, a British intelligence agent spying for the Russians, might seem familiar. The fascinating real-life tale has been the inspirational jumping-off point for countless characters in the genre, from books to movies.
In A Spy Among Friends, a limited series streaming on MGM+, Philby, played by Guy Pearce, takes center stage in his own right. Damian Lewis plays Nicholas Elliott, his friend and the man given the job of bringing the double agent to justice. It's based on the Ben Macintyre's New York Times NYT best-selling book.
"I think it's got a feel of John le Carré in it," Lewis explained, referencing the legendary writer. Philby's story played a significant role in the creation of the author's Bill Haydon character in his classic novel, Tinker Tailor Soldier Spy.
"For anyone who doesn't like spy thrillers, it's a relationship drama between two guys, one of whom is the UK's most notorious traitor of the 20th century. He betrayed his country, friends, and intelligence agency all at once," he added.
A Spy Among Friends is a densely packed and convoluted six-episode story that demands your attention. New episodes drop each Sunday.
"This is an intricate thriller. You've got to sit and concentrate, so don't pop out to make too many cups of tea," Lewis warned. "You need to sit and stay with it, but that's really satisfying."
Pearce knew he had to remain focused on what was going on as soon as he got the script and relished that.
"It wasn't just that I had to pay attention; I wanted to pay attention," the actor recalled. "I found it utterly compelling. There's a lot of information, and it's very dense. I had to go back in the script often and was like, 'Oh, now I've just got to go back and reread that part of episode one because it gives me the answer and the setup for this thing that we're doing four episodes later.' The nature of it means that you've got to have your thinking cap on."
He added, "When you read a script for the first time, one of the things that determine whether you choose to do it or not is how interesting, compelling, unusual it is, and what the character is like."
Another appeal to Pearce was that A Spy Among Friends reunited him with director Nick Murphy, who he worked with on A Christmas Carol. "Nick was the one who came to me with it," he enthused. "I was most impressed with him last time."
Lewis and Pearce make for a formidable pairing with undeniable and natural chemistry despite the largely dry nature of their characters. With that being the case, what has taken them so long to star opposite each other?
"We just couldn't avoid it any longer," Pearce joked. "When they say, 'We're thinking about Damian for the other role,' I always say no, whereas, with this one, he was already on board, so I didn't have a choice."
In finding the emotionally muted tone for the two men's friendship, Damian found it was baked into the cultural and historical DNA.
"That's a symptom of that class of man from that period of time, but they were clearly close," he mused. "You can see that just in the shared drinking, the dirty jokes, the love of cricket, the setting up of girlfriends, and all that stuff."
"Elliot adored Philby like an older brother looked up to him, he wanted to be him a little bit, was envious of him a little bit too, and he's presented at the end of the show with the reality that he enabled Philby to continue to do what he was doing. That's his tragic arc. In terms of Guy and me, we just get on really easily."
The pair found they had something in common that had its form of regimentation that they could draw on.
"We both went to private school, and that was an immediate sort of shorthand that was very helpful," Pearce recalled. "Mine might not have been as illustrious as the one Damian went to, and was in Australia. It wasn't quite the same, but it certainly modeled itself on the British school system. There was a shared but hidden understanding which was, 'I won't make you squirm with your emotions if you won't make me squirm with mine,' and you're like, 'Great. Done. We're on the same page.
Lewis added, "A profoundly repressed emotional life where emotions ooze out sideways like a small hole in a water balloon."
While it boasts multiple international locations, some doubling for other places, the series has an overriding quintessential Britishness. One such example is the inclusion of the recreation of a classic performance by the legendary comedy duo Morecambe and Wise in the first episode.
"I grew up watching a lot of British comedy from way back, so I was very familiar with Morecambe and Wise," Pearce said. "I'm sure there are people in various countries around the world who don't know them, but I have to assume everyone in the UK is at least aware of who they are. I don't know if they were big in the States."
Lewis added, "I'm a huge fan of them, and we used to watch the Christmas specials every year. It was a national tradition."
"It was quite cool and surreal as well because we filmed that in a theatre in Bucharest, so we're also doing something so very British in quite an unusual setting," Pearce concluded. "Honestly, it was perfect."
Read the rest of the original article at Forbes