New Co-Licensing Deal
by Jacob Robinson | What's On Netflix | July 4, 2023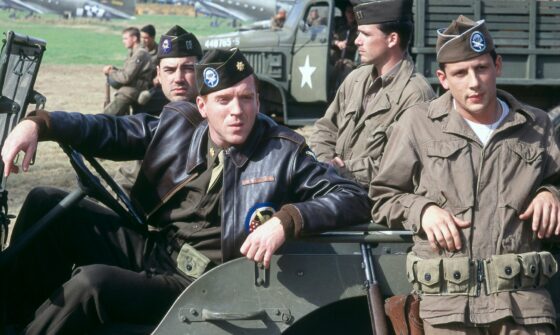 A new lucrative new co-licensing deal between HBO Max and Netflix will see the incredible war dramas, Band of Brothers and The Pacific, head to Netflix US September 15, 2023 due to the recently signed nonexclusive co-licensing deal between the two platforms.
Based on the book of the same name by historian Stephen Ambrose, Band of Brothers follows the journey of Easy Company of the 506th Parachute Infantry Regiment of the 101st Airborne Division, from their training at Camp Toccoa to D-Day, Operation Market Garden, Battle of the Bulge, and the surrender of Germany.
Band of Brothers features an all-star cast, with many recognizable faces today, some of which were in the early years of their careers; Damian Lewis (Billions), Ron Livingston (Office Space), Michael Fassbender (12 Years a Slave), Michael Cuditz (The Walking Dead), Stephen Graham (This is England), Simon Pegg (Star Trek), Tom Hardy (Venom), James McAvoy (X-Men), Dominic Cooper (Preacher), Andrew Scott (Fleabag) and many more including, Scott Grimes, Donnie Wahlberg, Ross McCall, Neal McDonough, Richard Speight, Jr., David Schwimmer, Jimmy Fallon and Colin Hanks!
Based on two books, With the Old Breed: At Peleliu and Okinawa by Eugene Sledge and Helmet for my Pillow by Robert Leckie, The Pacific follows the journey and experiences of the two authors in Pacific Theater of Operations, and Gunnery Sergeant John Basilone. All three men served in the 1st Marine Division.
The Pacific also features an extremely talented cast, with recognizable names such as James Badge Dale (The Departed), Joseph Mazzello (Jurassic Park), Rami Malek (Bohemian Rhapsody), and Jon Bernthal (The Punisher).
Netflix has yet to reveal the release date for either show, however, we expect them to arrive sooner rather than later. Between both shows, eight Primetime Emmy Awards were won.
Read the rest of the original article at What's On Netflix