This Season is For People Who Really Loved the Show
by Greg Braxton | LA Times | October 27, 2023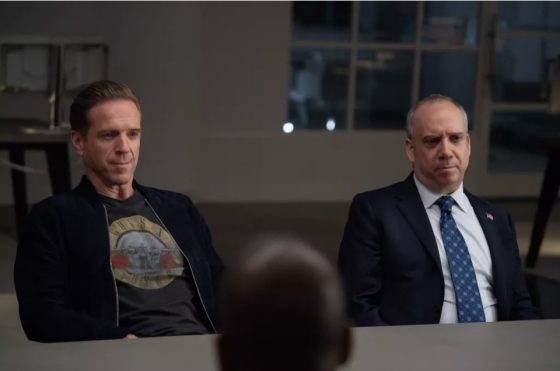 When the propulsive financial drama "Billions" premiered in 2016, its core premise centered on the vicious blood feud between U.S Atty. Chuck Rhoades and billionaire hedge fund king Bobby "Axe" Axelrod. The hatred between the two men was so fierce it was almost assured that only one man would be left standing at the end.
But the climactic moment of the series finale showcased a warm handshake between Rhoades (Paul Giamatti) and Axelrod (Damian Lewis) as they reflected how their vicious duel had radically changed them both and made them better men.
The moment was unexpected but also inevitable. The former foes had joined forces this final season to combat their common enemy — Michael "Mike" Prince (Corey Stoll), a billionaire who was not as brash as Axelrod but who unveiled a sinister hunger for power as he launched his candidacy to become president.
Continue reading Billions' Creators Discuss How the Finale was Fueled by Backstabbing and Blind Faith's Music