The Superhero Show About Finance and the Tale of Two Warring Goliaths
by Rachel Syme | The New Republic | April 24, 2018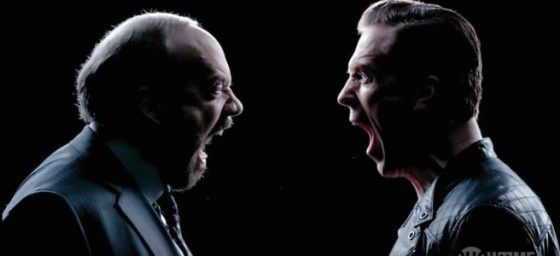 Billions reckons with the inflated egos and muddled ethics of Wall Street.
The first season of Billions premiered in January 2016— eight years after the collapse of the subprime mortgage market and eleven months before a self-proclaimed billionaire was elected president. This was the sweet spot, timing wise, for a bombastic prestige drama about the world of money. In 2011, the sharp and enraging documentary Inside Job, which charted the corruption that led to the financial crisis, won an Oscar. In the winter of 2016, The Big Short—a sermonizing, big-budget Hollywood comedy about reckless bankers—was nominated for Best Picture. The mea culpas had been issued, the bad actors identified, and although only one person officially went to jail, the coast looked clear for new stories of Wall Street and wealth.
Of course, in the wake of the crisis, a showrunner could not simply rehash the old Gordon Gekko formula for a modern audience. Slickness was no longer glamorous but gross; very few Americans had an appetite for captains of industry slurping down midday martinis at the Capital Grille. Instead, the three creators of Billions—the longtime writing team of Brian Koppelman and David Levien, along with The New York Times' financial reporter, Andrew Ross Sorkin—took a populist genre and grafted it onto the honeyed, moneyed lives of the rich and infamous: They made a superhero show about finance.