She was unforgettable onstage playing seemingly serene women who rippled with restlessness
by Ben Brantley | New York Times | April 17, 2021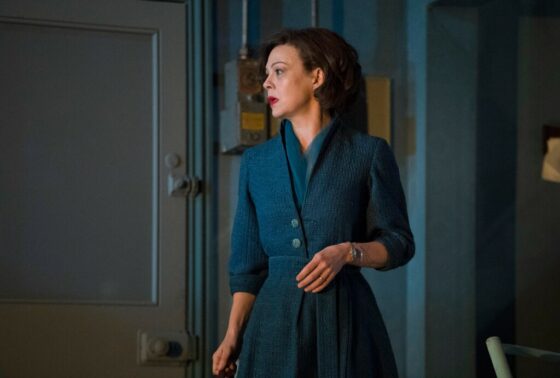 Selfishly, my first feelings on hearing that the uncanny British actress Helen McCrory had died at 52 were of personal betrayal. We were supposed to have shared a long and fruitful future together, she and I. There'd be me on one side of the footlights and her on the other, as she unpacked the secrets of the human heart with a grace and ruthlessness shared by only a few theater performers in each generation.
I never met her, but I knew her — or rather I knew the women she embodied with an intimacy that sometimes seemed like a cruel violation of privacy. When London's theaters reawakened from their pandemic lockdown, she was supposed to be waiting for me with yet another complete embodiment of a self-surprising life.
Ms. McCrory had become world famous for dark and exotic roles onscreen, as the fiercely patrician witch Narcissa Malfoy in the Harry Potter movies and the terrifying criminal matriarch Polly Gray in the BBC series "Peaky Blinders." But for me, she was, above all, a bright creature of the stage and in herself a reason to make a theater trip to London.
Continue reading How Helen McCrory Shone, Even in a Haze of Mystery – April 17, 2021