She was unforgettable onstage playing seemingly serene women who rippled with restlessness
by Ben Brantley | New York Times | April 17, 2021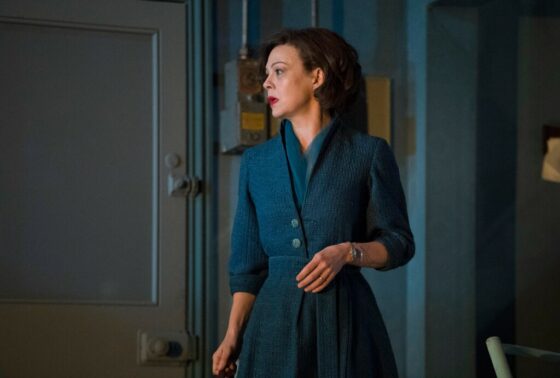 Selfishly, my first feelings on hearing that the uncanny British actress Helen McCrory had died at 52 were of personal betrayal. We were supposed to have shared a long and fruitful future together, she and I. There'd be me on one side of the footlights and her on the other, as she unpacked the secrets of the human heart with a grace and ruthlessness shared by only a few theater performers in each generation.
I never met her, but I knew her — or rather I knew the women she embodied with an intimacy that sometimes seemed like a cruel violation of privacy. When London's theaters reawakened from their pandemic lockdown, she was supposed to be waiting for me with yet another complete embodiment of a self-surprising life.
Ms. McCrory had become world famous for dark and exotic roles onscreen, as the fiercely patrician witch Narcissa Malfoy in the Harry Potter movies and the terrifying criminal matriarch Polly Gray in the BBC series "Peaky Blinders." But for me, she was, above all, a bright creature of the stage and in herself a reason to make a theater trip to London.
More often than not, she'd be there, portraying women of wit and passion, whose commanding serenity rippled with hints of upheavals to come, masterly performances in masterworks by Shakespeare, Chekhov, Pinter, Ibsen, Rattigan and Euripides. Sometimes, she'd take you to places you thought you never wanted to go, to depths where poise was shattered and pride scraped raw.
How grateful, though, I felt at the end of these performances, even after a pitch-bleak "Medea," at the National Theater in 2014, which she turned into an uncompromising study in the festering nightmare of clinical depression. Granted, I often felt sucker-punched, too, maybe because I hadn't expected such an ostensibly self-contained person to unravel so completely and convincingly. Then again, that was part of the thrill of watching her.
Most of Ms. McCrory's fans felt sucker-punched by her death, I imagine. Aside from her family — who include her husband, the actor Damian Lewis, and their two children — few people even knew she had cancer. The announcement of her death was a stealth attack, like that of Nora Ephron (in 2012), who had also managed to keep her final illness a secret.
I have great admiration for public figures who are able to take private control of their last days. Still, when I saw on Twitter that Ms. McCrory had died, I yelled "No!," with a reiterated obscenity, and began angrily pacing the room.
Damn it, Ms. McCrory had within her so many more complex, realer-than-life portraits to give us. Imagine what we would have lost if Judi Dench, Maggie Smith or Helen Mirren had died in her early 50s.
Like Ms. Mirren, Ms. McCrory, at first glance, exuded a seductive air of mystery. Even in her youth, she had a sphinx's smile, a husky alto and an often amused, slightly weary gaze, as if she had already seen more than you ever would.
In the early 21st century, I saw her as the languorous, restless Yelena in Chekhov's "Uncle Vanya," a role she was born for (in repertory with a lust-delighted Olivia in "Twelfth Night," directed by Sam Mendes); as a defiantly sensual Rosalind in "As You Like It" on the West End; and (again perfectly cast) as the enigmatic friend who comes to visit in Harold Pinter's "Old Times" at the Donmar Warehouse.
In those productions, she brought to mind the erotic worldliness of Jeanne Moreau. It was her default persona in those days, and one she could have coasted on for the rest of her career. She brimmed with humor and intelligence, and I could imagine her, in another era, as a muse for the likes of Noël Coward.
But Ms. McCrory wanted to dig deeper. And within less than a decade, between 2008 and 2016, she delivered greatness in three full-impact performances that cut to the marrow of ruined and ruinous lives. First came her electrically divided Rebecca West in Ibsen's "Rosmersholm," a freethinking "new woman" torn apart by the shackling conventions of a society she could never comfortably inhabit. Then there was her heart-stopping Hester Collyer, an upper-middle-class woman destroyed by sexual reawakening, in Terence Rattigan's "The Deep Blue Sea."
In between, she dared to be a Medea who had hit bottom before the play even started. In Carrie Cracknell's unblinkingly harsh production, Ms. McCrory played Euripides's wronged sorceress as a despair-sodden woman who believed she would never, ever feel better. It was the horrible, dead-end logic of depression that drove this Medea.
"Nothing can come between this woman and her misery," observed the household nanny (played by a young Michaela Coel).
Read the rest of the original article at New York Times