Designing His Own Philanthropy, Part 1
by Lynda – guest blogger for Fan Fun With Damian Lewis – May 11, 2017
Part I of Lynda's detailed survey into Damian's generous heart. In case you missed Part II, it is here.
Lynda, one of Fan Fun With Damian Lewis' first and constant supporters, has been a consultant working with charitable families, foundations and trusts throughout the U.S. for more than 25 years. We are extremely thrilled to have her as a guest blogger putting her expertise to work in a survey about our favorite actor's philanthropic efforts.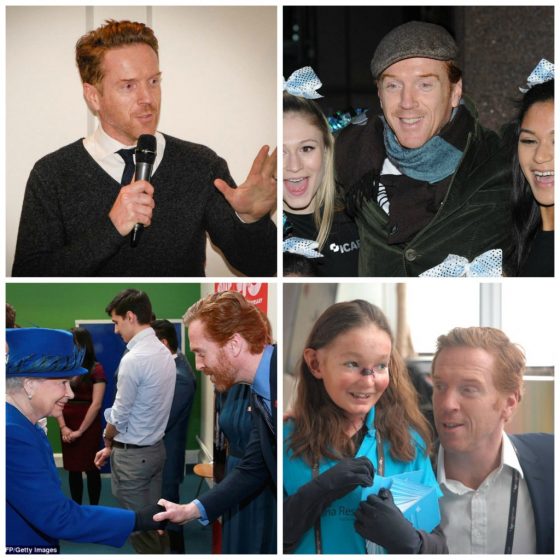 Philanthropy, a word derived from ancient Greek roots, means love of humanity. In modern terms, it is the act of promoting the welfare of others through charitable donations and charitable acts.
GIVE and GET are two critical commandments in the world of philanthropy.   Philanthropists GIVE their money plus their time, often rolling up their sleeves to undertake physical, onsite work days on behalf of a cause important to them, whether building a house or needed playground or making an educational film or counseling young aspiring entrepreneurs. It is impossible for any one person or one family to give to all of the worthwhile charities in the world. So, people have to ask themselves, "What issues or challenges are important to me and my family?" Strategic giving involves setting charitable priorities and selecting recipients wisely through vetting and paring down. Some philanthropists sponsor fundraising events – luncheons, banquets, galas, marathon runs – that "get" or encourage others to give. And public figures can also lend their celebrity to make meaningful contributions to charitable causes. In doing so, they can GET others to donate money, time and effort. In the case of Damian Lewis, he has mastered so many of these generous strategies.
We cannot speak to the sums of money that Damian Lewis and Helen McCrory have donated to charities in the U.K., the US and internationally. We can only assume that their pounds and dollars support the organizations to which they have given their time and for which they have solicited dollars and time from their friends, their fans, and the public. And, although I tried several times during my recent London trip to get Damian to tell us for this Fan Fun post about his charitable priorities and his family traditions of giving (to no avail on the mini-interview front, I'm sorry to say), we can look at the recipients of his generosity over the years to infer some of his philanthropic priorities.
One prominent example, which we follow regularly on this blog, is how Damian has brought his celebrity – his visibility – to Sohana Research Fund. A "rare disease" needs the help of a celebrity to shine a light on the cause and to help raise funds for needed medical research and treatment. In February 2012, as a celebrity supporter of the Fund, Damian went to Number 10 Downing Street as part of ICAP Charity Day. Damian became a patron of the Sohana Fund in 2013. He explained:
 "My children are at the school Sohana went to and we became good friends with her. I wanted to help so I became Patron of the Sohana Research Fund which raises money for stem cell research and gene therapy for kids with the condition." (Mirror UK, February 22, 2015 updated)
Most recently, Damian named Sohana Collins as the living person he most admires.
"A little girl I know who's extremely brave." (March 16, 2017 Vanity Fair Proust Questionnaire).
In February 2015, Damian made a straightforward explanatory video about recessive dystrophic epidermolysis bullosa (RDEB or EB), interviewing leading research scientist Professor John McGrath of Kings College London. This informative video is found on the website of Sohana Research Fund and is used by the organization at its fundraising events.
Continue reading Designing His Own Philanthropy, Part 1 – May 11, 2017