Rich Pickings: Is this Show the New Dallas? Why Billions is a Fascinating Watch
by Dominic Corry | Weekend Herald | March 23, 2018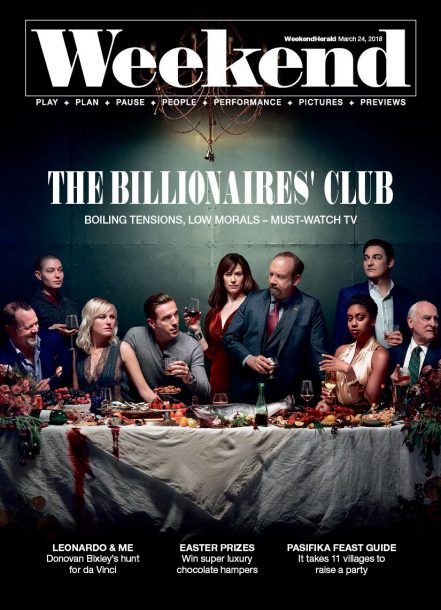 Boiling tensions, billionaires and low morals – it all makes Billions a must watch TV show. That and the seller cast, who include Damian Lewis and Paul Giamatti.
Pity the 1 per cent. The world is a tough place for the richest of the rich right now. With economic inequality and corporate malfeasance on the rise – not to mention a certain self-proclaimed rich guy currently nudging the Western world off a cliff – there is more public emnity for billionaires than ever before. Yet we cannot look away.
Which is part of why Billions is such a fascinating watch. It charts the high-stakes game of brinksmanship between hot-shot billionaire hedge fund manager Bobby Axelrod (Damian Lewis) and US Attorney Chuck Rhoades (Paul Giamatti), whose all-consuming passion is to put Axelrod in jail.
There are extreme contradictions in both men: Rhoades is driven by a crusading sense of justice, but is more than willing to bend the rules if it means seeing Axelrod behind bars – and at the end of last season showed he was prepared to suffer great personal loss in his pursuit of that goal.
Axelrod, on the other hand, is a ruthless businessman who came from humble beginnings. He will happily destroy multiple lives with a single trade, yet often displays flashes of considerable humanity.