Rich Pickings: Is this Show the New Dallas? Why Billions is a Fascinating Watch
by Dominic Corry | Weekend Herald | March 23, 2018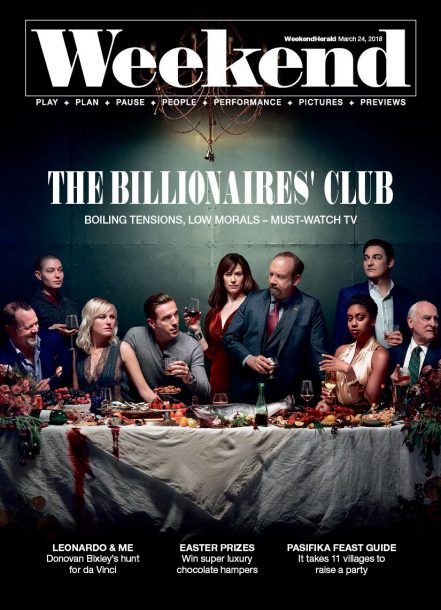 Boiling tensions, billionaires and low morals – it all makes Billions a must watch TV show. That and the seller cast, who include Damian Lewis and Paul Giamatti.
Pity the 1 per cent. The world is a tough place for the richest of the rich right now. With economic inequality and corporate malfeasance on the rise – not to mention a certain self-proclaimed rich guy currently nudging the Western world off a cliff – there is more public emnity for billionaires than ever before. Yet we cannot look away.
Which is part of why Billions is such a fascinating watch. It charts the high-stakes game of brinksmanship between hot-shot billionaire hedge fund manager Bobby Axelrod (Damian Lewis) and US Attorney Chuck Rhoades (Paul Giamatti), whose all-consuming passion is to put Axelrod in jail.
There are extreme contradictions in both men: Rhoades is driven by a crusading sense of justice, but is more than willing to bend the rules if it means seeing Axelrod behind bars – and at the end of last season showed he was prepared to suffer great personal loss in his pursuit of that goal.
Axelrod, on the other hand, is a ruthless businessman who came from humble beginnings. He will happily destroy multiple lives with a single trade, yet often displays flashes of considerable humanity.
So why do we as a culture remain so entranced by the super-rich?
"We have long been fascinated by his question," Billions co-creator Brian Koppelman tells Weekend. "Why characteristics like great intelligence, wealth, charisma, ambition stand in for true character in our society so often. And we wanted to display that in the show, and ask that question in dramatic context.
"I think the dramatic device that is being used here is that if you give people enough need, desire, want, viewers enjoy that," adds Lewis. "Viewers enjoy watching the desperation, the compromise, and the ambiguity that it throws up in their lives. And what are they going to do to go get it? That's where the dramatic stakes are. The fact that shysters do shystery things doesn't make you like them less, weirdly, within a dramatic context."
The end of season two saw Axelrod arrested after illegally sabotaging a business that Rhoades and his family were investing in. The whole affair was a trap engineered by Rhoades, who lost almost 30 million dollars in the gambit, but considered it a small price to pay to see Axelrod in handcuffs.
"I like many things about the character," Giamatti tells Weekend. "But it was interesting to me that last season, when I tanked everybody – I tanked my best friend, my father – everybody lost their money, and I felt it was very interesting that Chuck didn't really care about money."
Axelrod was bailed soon after his arrest, but is facing major indictments as season three begins. Smack dab in the middle of these two alpha males is Chuck's wife Wendy (Maggie Siff), who happens to work as Axelrod's most trusted in-house confidante and motivator.
"The whole conflict within the character has been not wanting to be stuck between a rock and a hard place between these two guys," Siff says. "Yet the season starts out, and she's back between these two men but, in her mind, in a very different way and on very different terms."
Billionaire hedge fund manager Bobby Axelrod (Damian Lewis) is the latest in a long tradition of ridiculously rich television characters.
If you like watching rich folks, remember this TV show that came before.
DALLAS (1978-1991) J.R. Ewing
Oil, cattle, Texas, big hats, big hair, white smiles, white lies and lots of stinking rich, white folks. "A conscience is like a boat or a car. If you feel you need one, rent it," said J.R. Ewing to his lawyer and lover, Anita Smithfield. JR: Got shot. Survived. RIP Larry Hagman.
Read the rest of the original article at Weekend Herald