What Sets Billions Apart from a Lesser Show: The Performances & Characters
by Wenlei Ma | NT News | March 23, 2018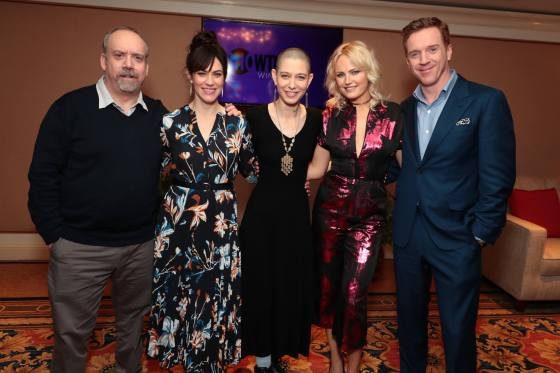 IF YOU'VE seen Wall Street or The Wolf of Wall Street, then you know the world of New York high finance is full of bros forever engaged in some kind of pissing contest.
And Billions certainly has its share of that though, happily, that's not all it is.
The bigger the bank balance, the bigger the ego and hubris — like one character who says he's under more pressure than Kennedy was during the Cuban missile crisis, and means it.
The toxic war between Bobby Axelrod (Damian Lewis), a crazy smart, successful and scrappy banker, and Chuck Rhoades (Paul Giamatti), a politically ambitious prosecutor not above his own Machiavellian schemes, provides the impetus for the show, back for its third season this weekend on Stan.
Billions' arc usually goes something like this: Chuck goes after Axe but is thwarted by the rich man's strategic foresight and conniving plan. Axe hits back at Chuck and overreaches, exposing himself to unnecessary risk. Billions has spent most of its first two seasons letting Chuck chase Axe, no fruit in sight, until the finale, when he finally manages to catch him.
Under arrest and facing a massive investigation and scandal, Axe will need to climb back on top of the finance world with his billions and reputation intact. On the other side of town, Chuck is struggling to keep under wraps the dirty dealings he did to get Axe there all while trying to contend with a new boss who's equal parts menacing and "aww, shucks".
How much are either men are willing to lose to take the other one down? They're both too smart for their own good, and definitely too smart for the good of others.
While that all sounds par for the course, there are a few things that sets Billions apart from a lesser show.
The first are the performances, led by Lewis and Giamatti, two actors with phenomenal screen presence who can make their characters' utter contempt for each other scream, despite rarely sharing the screen. It's the delicate balance of rage, charisma and restraint. That neither men have been recognised on the awards circuit for their complex Billions roles is a crying shame.
What Billions has done remarkably well since its inception, especially in a masculine arena like finance, is build up its non-male characters.
Chuck's wife and Axe's confidante Wendy (Maggie Siff, Mad Men) is someone who in the first season was defined by her relationships to them and the constant pull between them. But, as a character, she has pulled away and has as much agency as any of the men, plotting her own fate and setting the boundaries on what Chuck or Axe could expect from her.
Read the rest of the original article at NT News