Hockey Gets An Assist From Billions
by Cara Bahniuk and Elizabeth Kong | Russian Machine Never Breaks | March 12, 2019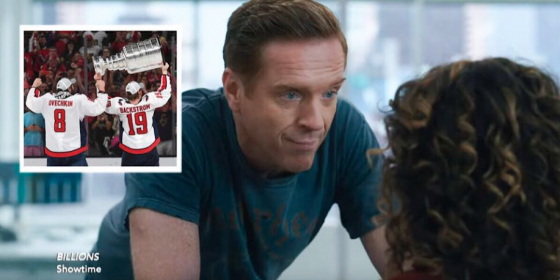 Alex Ovechkin and Nicklas Backstrom have made a perfect pair on the ice since 2007, combining for some magical plays. The two go together like ham and cheese, like peanut butter and jelly, and the combination of Ovechkin and Backstrom is now so iconic that they are used to make the perfect analogy on the Showtime TV show, Billions.
In a preview of the upcoming season, Damian Lewis' character Bobby "Axe" Axelrod references Ovechkin's goals off Backstrom's assists as an analogy during an argument.
Axe argues that Ovechkin's prolific scoring is because Backstrom shares the puck. Actress Sarah Stiles' character Bonnie Barella shoots back that Ovi has the skill to put his shots into the net, unlike her incompetent coworker.
Continue reading Alex Ovechkin and Nicklas Backstrom Used as Metaphor in Billions – March 12, 2019