Hockey Gets An Assist From Billions
by Cara Bahniuk and Elizabeth Kong | Russian Machine Never Breaks | March 12, 2019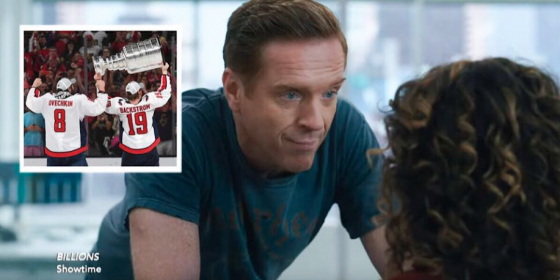 Alex Ovechkin and Nicklas Backstrom have made a perfect pair on the ice since 2007, combining for some magical plays. The two go together like ham and cheese, like peanut butter and jelly, and the combination of Ovechkin and Backstrom is now so iconic that they are used to make the perfect analogy on the Showtime TV show, Billions.
In a preview of the upcoming season, Damian Lewis' character Bobby "Axe" Axelrod references Ovechkin's goals off Backstrom's assists as an analogy during an argument.
Axe argues that Ovechkin's prolific scoring is because Backstrom shares the puck. Actress Sarah Stiles' character Bonnie Barella shoots back that Ovi has the skill to put his shots into the net, unlike her incompetent coworker.
The clip, which will take place in the show's upcoming season, was previewed during Lewis' appearance on the Late Show with Stephen Colbert.
Bobby Axelrod: "Do you know why Ovi scores so much? Because Backstrom shares the puck."

Bonnie Barella: "Yeah, but when he does, Ovi goes bar down. But this lame loses the puck between his legs, or airmails it into the damn glass."

Axelrod: "So I fire him, and he doesn't f-ck up again, right Rudy?"

Rudy: "That's right, Axe."

Axelrod: "And you signed your non-compete, didn't you?"

Rudy: "Of course."

Axelrod: "Good. Rudy? You're fired."
Ovechkin and Backstrom were part of the Capitals' Young Guns era and enjoyed a partnership on the ice for over a decade before winning the Stanley Cup together. Backstrom predicted the future when he was drafted by the Capitals in 2006.
The show references hockey quite often in the first three seasons. Here's a clip referencing the 1980 Russian Men's Olympic Hockey Team:
In another episode, one of the show's antagonists is introduced as wanting to buy the New York Islanders while practicing with the team. Billions' showrunners, Brian Koppelman and David Levien, are Long Island natives.
Read the rest of the original article at RMNB