Insider Information
by Gingersnap | damian-lewis.com | March 11, 2019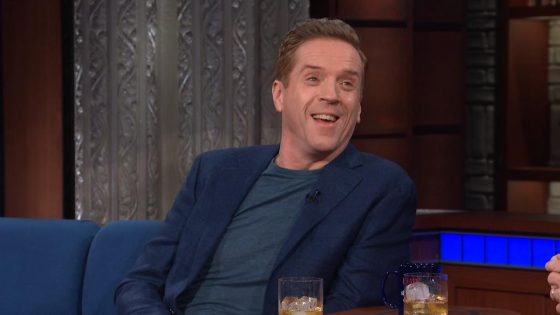 Damian danced his way onto The Late Show with Stephen Colbert on Monday, March 11, 2019 in New York, bringing gifts of Michter's Whiskey, so cheers to that! Watch his unforgettable entrance here:
When Stephen brings out cocktail glasses and an ice bucket from a secret bar beneath his desk and begins to pour the whiskey, Damian is amazed, exclaiming,
"This is fantastic, You can go home, it's fine. We're just going to sit and drink. This is amazing. Look at this! I'm very excited."
Then they clink glasses as Damian "cheers" to Stephen in Welsh.
Damian reminisced about his 1995 Broadway debut in Hamlet with Ralph Fiennes, discussing the sword fight that caused his eyebrow scar,
"I get rushed off to hospital and I have nine stitches through here, through my eyebrow. And my eyebrow still doesn't join up. Make-up artists all over the world curse my right eyebrow because they can't make it join up. There's a gap here."
To find out more about Damian's Broadway debut and that sword fight during Hamlet, check out our sister site here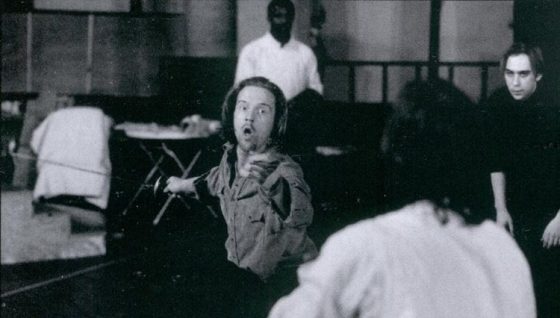 While discussing the Billions season 4 premiere, Damian shared what it is like to work with Paul Giamatti as a scene partner:
"We [Paul] have a quite deep and involved process. It's very, very serious. And we tend to just do this quite a lot (Damian pretend farts), then the director says action and we'll go straight into it. We find the best way to prepare is just to make fart noises and uh, make each other laugh. I mean, how are other actors preparing?"
Damian introduces the Billions season four clip by saying "…Axe is being very Axey and is about to fire somebody." (SPOILER ALERT WE WON'T SAY WHO). Watch the full episode here:
Also appearing on tonight's broadcast were guests Tulsi Gabbard, the Democratic U.S. Representative for Hawaii's 2nd congressional district, and singer-songwriter Ellie Goulding.
To view more images, please visit our Gallery