Rob Ford Movie Run This Town is Funny, Furious and Surprisingly Accurate
by Radheyan Simonpillai | Now Toronto | March 10, 2019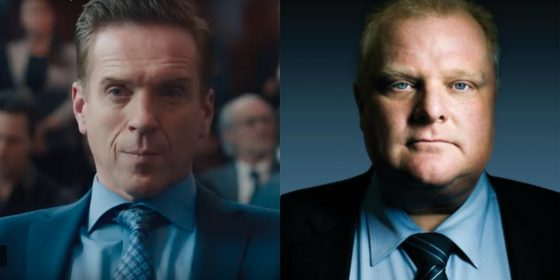 The fictionalized take on the former mayor's crack-smoking scandal mostly sticks to the details and is a reminder – in more ways than one – that white male privilege rules.
There are two stories running parallel in Run This Town. One is about a desperate journalist trying and failing to crack his first big story. The other revolves around the special aides in Rob Ford's office, led by Mena Massoud's disarmingly passionate smooth operator Kamal (who Lewis's Ford keeps pronouncing "Camel"). Kamal tidies up the disasters left behind by his tornado boss and toys with journalists that try to get close to a story by giving spiels making them look like the taxpayer's enemy.
The relevance a Rob Ford story has for a U.S. audience was obvious at the premiere in Austin. Torontonians were already familiar with Trump's bombastic tactics and attitude toward the media and immigrants because we had it first, and we're re-living the nightmare with Ford in office.
With details lifted from police reports and local media, Run This Town sticks close to the Ford saga in surprising detail. His bullshit taxpayer rhetoric makes for wickedly paced back-and-forths between the actors playing City Hall staff. At one point, somebody likens the former mayor to "the town's mall Santa," taking pictures with everybody and making promises to constituents, and leaving it to his elves to deliver. And the film doesn't shy away from embarrassing details and how the numerous scandals broke. The groping incident and that quip about "plenty to eat at home" are all worked into its narrative.
Tollman manages to pull a muscular dark comedy from all this horrid behaviour. The debut writer/director shows off the confidence, skill and style we saw in Jason Reitman's Thank You For Smoking. He relishes snappy, salty and regularly hilarious banter while throwing down 70s style with split screens and anachronistic graphics, and moves the movie along with the chaotic energy befitting of Ford.
Nina Dobrev is also wonderful as Ashley Pollock, a Ford aide whose wavering support goes down in infamy. (The name has been changed but Toronto audiences will know who she is meant to be in the final act.)
Lewis's take on Ford is actually pretty great, though his distracting latex job looks like Mike Myers dressed as Fat Bastard. From under the layers, Lewis captures the heartfelt and amusing aspects of the former mayor but also his worst drunken antics, temperamental blow-ups and offenses toward the media, the community, counsellors like Paula Fletcher and women in general.
Read the rest of the original article at Now Toronto