New Backstabbing Plots and Plenty of F-Bombs Abound in the Latest Season of Showtime's Popular Drama
by Andrew Husband | Den of Geek | March 11, 2019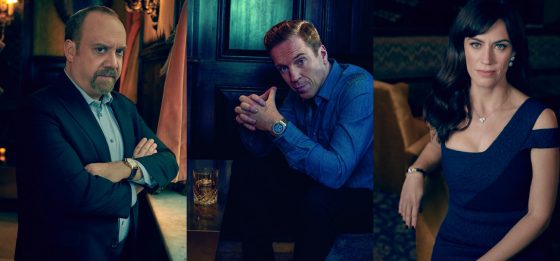 Three seasons in, Showtime's popular drama series Billions tends to operate in one of two ways. Either the main characters finally put their grandiose plans for revenge into action and achieve the desired results, or these heavily-plotted exercises in vengeance quickly transform into egregious self-owns perpetrated by the very people they were trying to put one over. This is precisely what happened to longtime rivals Chuck Rhoades (Paul Giamatti) and billionaire hedge fund manager Bobby "Axe" Axelrod (Damian Lewis) at the end of season three, and they're both furious about it.
Cue Billions season four, which sees the ex-U.S. Attorney and the billionaire hedge fund manager casting their animosity for one another aside in order to seek revenge against the very people they were initially trying to destroy (but who ultimately destroyed them instead). In Rhoades' case, it's U.S. Attorney General Waylon "Jock" Jeffcoat (Clancy Brown) and Bryan Connerty (Toby Leonard Moore), who turned his plot to oust Jock against him. As for Axelrod, it's all about beating former employee-turned-competitor Taylor Amber Mason (Asia Kate Dillon), whose alliance with the Russian oligarch Grigor Andolov (John Malkovich) is causing problems.
Before going any further, we should acknowledge that yes, everything described in the previous two paragraphs constitutes "a lot." Billions consists of dozens of characters participating in (or being totally unaware of) numerous plots to make money, steal money and generally ruin the lives of one's enemies. It's basically a premium cable-sized television soap opera designed to let some very, very good actors chew on every available piece of scenery. And you know what? This is totally fine! In fact, it may very well be why audiences and critics alike have flocked to the show for the past three seasons.
However, the first four episodes of the latest Billions season (which were made available to critics for review) implicitly pose a new set of questions. Or, at least they seem to be adding more vigor to questions that viewers may have been wondering about for the past few years. Questions like, "How can I possibly relate to a bunch of powerful bureaucrats and billionaires?" or "Why should I even care about what happens to any of these people?"
Read the rest of the original article at Den of Geek