Decadent Backdrop of the Lifestyles of the .001-Percent Bracket
by Brian Lowry | CNN | March 12, 2019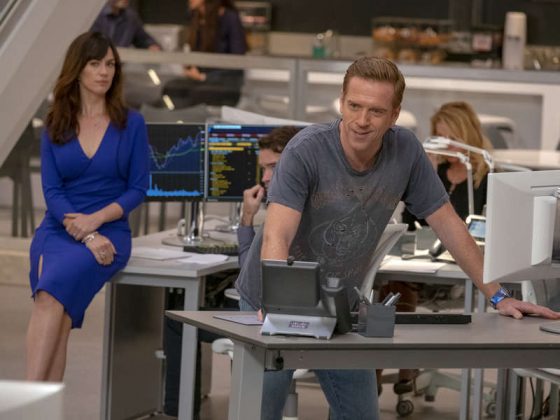 Situated in worlds of politics and privilege, power and corruption, "Billions" and "The Good Fight" each play to top-of-mind liberal concerns in the Trump era. Yet the Showtime series feels more compelling by tangentially making its case, whereas the CBS All Access drama loses something by leaning directly into an anti-Trump stance, to the point of bashing the viewer over the head with it.
"Billions" is embarking on its fourth season, while "The Good Wife" spinoff begins its third. In essence, the "Billions" finale shuffled the show's structure and loyalties, creating parallel battles for power while turning one-time adversaries Bobby "Axe" Axelrod (Damian Lewis), the billionaire hedge fund manager, and former U.S. attorney Chuck Rhoades (Paul Giamatti) into unlikely if slightly wary allies.
The new dynamic pits Axe against his former protégé Taylor (Asia Kate Dillon), in a high-stakes chess match that has seen Taylor enter into an alliance with a ruthless Russian oligarch, toothily played by John Malkovich. As for Chuck, his efforts to regain his perch lead him into politics, squaring off against his own former deputy (Toby Leonard Moore) as well as others in the process.
"Billions" is a brutal, seamy world of leverage, where "What have you done for me lately?" is the prevailing mantra and squeezing favors out of people is a practiced art. Everything about the show is juicy — starting with the key performances — and its sense of the current political moment is savvy without needing to be especially specific.
The writing produces some prescient flourishes, such as one of the characters being faced with what amounts to blackmail, in a story arc that can't help but bring to mind how Amazon's Jeff Bezos handled his recent run-in with the National Enquirer's parent company.
Whatever else the series has to say about the current times and national mood, "Billions" works because the focus remains steadfastly on the characters. Occasionally funny and frequently profane, it provides commentary without being heavy-handed, and escapism by gliding through the serialized jockeying for power and advantage against a decadent backdrop of the lifestyles of the .001-percent bracket.
Read the rest of the original article at
CNN