Bananas and Marmalade 
by Emily Bearn | Sunday Telegraph | September 30, 2001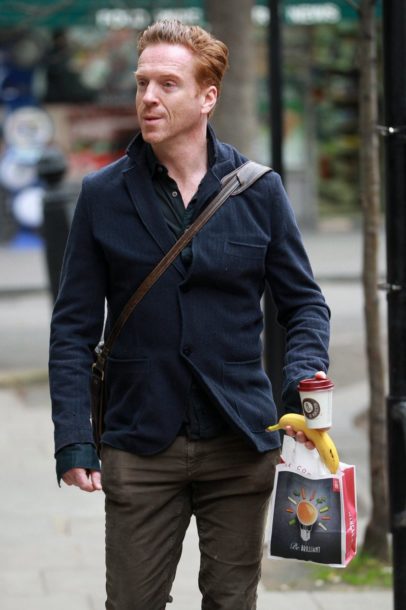 Damian Lewis is an Old Etonian who plays an American war hero in Spielberg's latest epic, and dreams of being the next James Bond. Emily Bearn meets the young contender.
Damian Lewis (if the actor's publicists in London, New York and Los Angeles are to be believed) is destined to be pretty big — he is already big enough to turn up for our interview two hours late. We have arranged to meet at the Midland Hotel in Manchester, which has been Lewis's home for the past six months while he has been filming a new adaptation of Galsworthy's The Forsyte Saga for ITV. Journalists and photographers are milling around the hotel's palm-fronded foyer, being sporadically debriefed as to Lewis's whereabouts by Michael, a member of his publicity team, who is directing operations from a mobile telephone. We are plied with complimentary croissants and told that the delay is attributable to Lewis's intense filming commitments, coupled with a recent unscheduled appearance at the Manchester Royal Infirmary, where he had his appendix whipped out.
When he eventually arrives, Lewis looks calm, robust and fairly confident of the fact that he is one of the swifter-ascending stars of the small screen. He is dressed in jeans and a slightly grubby grey shirt; his orange hair is damp or fashionably slicked, and his freckles suggest he has been in the sun. He is 30, but has the sort of pleasant, negotiable looks that mean he could pass himself off as a decade older or younger. After Lewis has dispatched Michael into the Manchester drizzle to buy him bananas, we retire to a suite in which the bed has been replaced by a table bearing yet more croissants. Lewis eats two, with the rapacity of a man who has missed breakfast, pausing between bites to explain the etymology of marmalade.
We are here to discuss Band of Brothers, an American Second World War drama in which Lewis plays Major Dick Winters, the hero who led an élite US Army corps as it parachuted into France on D-Day. The ten-part series (which swallowed a budget of about £86 million and will be screened by the BBC this week) was produced by Steven Spielberg and Tom Hanks and has been attacked for — as one British tabloid put it — casting an "unashamedly American slant on the Second World War."
Continue reading Damian Lewis Interview, Sunday Telegraph – Sept 30, 2001