Damian the Husband: Organizing Road Trips, Planning Surprise Birthday Parties
by Gavanndra Hodge | The Telegraph | August 9, 2019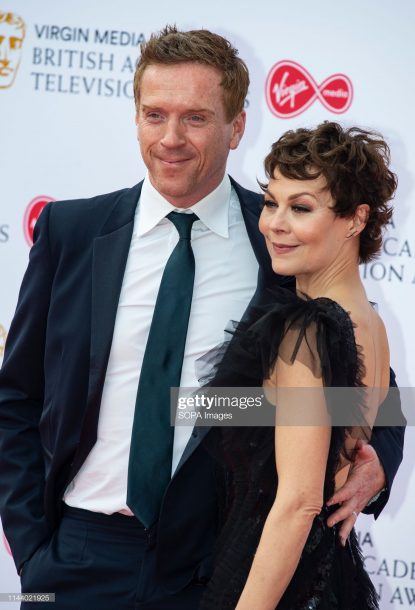 She's straight-talking, hates housework, dresses to kill, and lives life her way – convention be damned. Turns out Helen McCrory has plenty in common with her badass Peaky Blinders character Polly.
Helen McCrory, the multiple-award winning actor, is holding what looks like a moist slice of turkey. 'What is that?' I ask. 'It's a face mask, darling. £1.99 from Superdrug,' she says, rubbing it against her neck. 'It's going to make me look like a teenager.'
We are standing outside a café on the Regent's Canal, cyclists and prams whizzing by. McCrory is wearing a floral tea dress, silver Zadig & Voltaire boots, sunglasses and a VIP wristband from a Bob Dylan concert she went to, five days ago. 'I am never taking it off,' she says.
There is a sort of rock-star swagger to Helen McCrory, 50, a charismatic, don't-give-a-damn cool with her chipped red nails and posh-voiced sweariness. She likes to party, to wear top hats and vintage frocks, and there is the inevitable doubling of glamour that comes from her marriage to the actor Damian Lewis (Brody from Homeland, more recently Bobby Axelrod in Billions), with whom she lives in a tall, narrow house in Tufnell Park with their children Manon, 12, and Gulliver, 11.
But what is most thrilling about McCrory is not the husky wit, the famous friends ('Have you seen Andrew [Scott] doing Present Laughter? Now that is how you do Coward') or the fact that she ran an acid jazz club in Islington one summer in the early 1990s – it is her talent.
She brings a furious precision and intensity to the roles she takes: Medea and 'Lady M' on stage; on screen, Anna Karenina, Narcissa Malfoy, Cherie Blair and the gangster matriarch Aunt Polly in Peaky Blinders, the fifth season of which is soon to start on BBC One. Critics compete for the glowing adjectives when describing her performances – 'superb', 'majestic', 'simply wonderful'. In 2017 she was awarded an OBE for services to drama.
Continue reading Damian and Helen Together On Stage Again? Hints Were Dropped! – Aug 9, 2019