Damian the Husband: Organizing Road Trips, Planning Surprise Birthday Parties
by Gavanndra Hodge | The Telegraph | August 9, 2019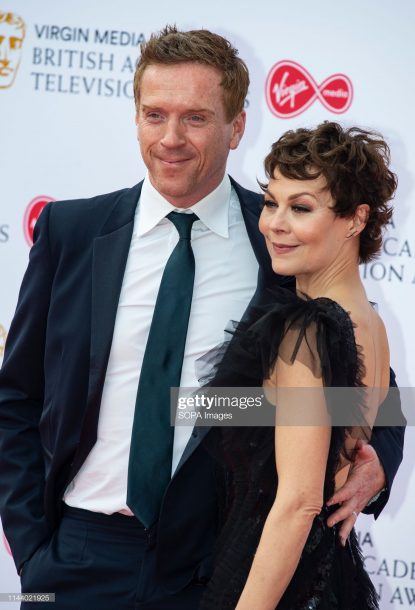 She's straight-talking, hates housework, dresses to kill, and lives life her way – convention be damned. Turns out Helen McCrory has plenty in common with her badass Peaky Blinders character Polly.
Helen McCrory, the multiple-award winning actor, is holding what looks like a moist slice of turkey. 'What is that?' I ask. 'It's a face mask, darling. £1.99 from Superdrug,' she says, rubbing it against her neck. 'It's going to make me look like a teenager.'
We are standing outside a café on the Regent's Canal, cyclists and prams whizzing by. McCrory is wearing a floral tea dress, silver Zadig & Voltaire boots, sunglasses and a VIP wristband from a Bob Dylan concert she went to, five days ago. 'I am never taking it off,' she says.
There is a sort of rock-star swagger to Helen McCrory, 50, a charismatic, don't-give-a-damn cool with her chipped red nails and posh-voiced sweariness. She likes to party, to wear top hats and vintage frocks, and there is the inevitable doubling of glamour that comes from her marriage to the actor Damian Lewis (Brody from Homeland, more recently Bobby Axelrod in Billions), with whom she lives in a tall, narrow house in Tufnell Park with their children Manon, 12, and Gulliver, 11.
But what is most thrilling about McCrory is not the husky wit, the famous friends ('Have you seen Andrew [Scott] doing Present Laughter? Now that is how you do Coward') or the fact that she ran an acid jazz club in Islington one summer in the early 1990s – it is her talent.
She brings a furious precision and intensity to the roles she takes: Medea and 'Lady M' on stage; on screen, Anna Karenina, Narcissa Malfoy, Cherie Blair and the gangster matriarch Aunt Polly in Peaky Blinders, the fifth season of which is soon to start on BBC One. Critics compete for the glowing adjectives when describing her performances – 'superb', 'majestic', 'simply wonderful'. In 2017 she was awarded an OBE for services to drama.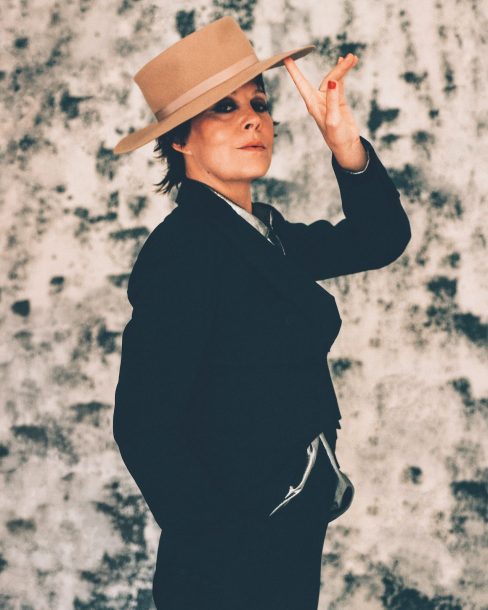 Birmingham-based Peaky is the BBC's wildly popular 1920s gangster epic, with a Wild West sensibility and sumptuous period styling (in the new series, Polly will mostly be wearing jaunty, Greta Garbo-inspired suits). McCrory plays the aunt of Thomas Shelby (Cillian Murphy), who is now not only a criminal kingpin but also an MP. The new season 'starts with the Wall Street Crash', explains McCrory. 'When it all hits rock bottom. Polly has nothing again, which is actually her most happy modus operandi. She is a street urchin, an alley cat, she makes it up as she goes along.'
There is a sharp edge to the parts that appeal to McCrory: witches, rogue queens, embattled lawyers and women about to topple into despair. Her friend and colleague, the late Alan Rickman, once said, 'Helen has a kind of darkness of spirit to bring.'
'I am certainly not frightened of melancholia,' she admits. 'That thing of always trying to be jolly and positive, that has never really interested me. Darkness is so much part of our lives. If you deny that in your performances, if you airbrush that out of life, you make people feel lonely. The whole point of storytelling is to sit there and not feel so desperately alone, which is of course our natural state…'
McCrory's mother was a Welsh physiotherapist, her father a Glaswegian who worked for the Foreign Office and took his young family (McCrory has two siblings, a brother and a sister) to Paris, Tanzania, Norway, Madagascar. 'I was always different, wherever I went,' she says.
McCrory still felt like an outsider as a teenager, when she boarded at Queenswood Girls School in Hertfordshire, wore DM boots and listened to The Clash, and marched to free Nelson Mandela and abolish the poll tax. 'Although I did look like I'd eaten the other girls. I was quite plump. Not that I ever noticed… I wasn't brought up to notice things like that. My mother has never worn a scrap of make-up in her life.'
It was at Queenswood that McCrory first became aware of the theatre (growing up in Africa, she had barely watched television). Her drama teacher was Thane Bettany (father of Paul) and he took his pupils to see productions such as Mother Courage with Judi Dench. McCrory immediately felt 'at home with the misfits' of the theatre and, at 16, applied to the Drama Centre.
'When I told my parents I wanted to act, the thing that they were worried about was not what happens if I act, it was what happens if I don't act.' For her audition, she read Juliet's speech from act three of Romeo and Juliet: 'Gallop apace, you fiery-footed steeds.' 'They said, "That's great. So, when have you been in love, what does love feel like?" I said, "I have no idea." I was a 16-year-old virgin. "But there will be people in the audience whose wives have died, who know about love in a deep and amazing way," they said. "And you are standing there, talking to them about love? What right do you have? Go away!" And I thought they were absolutely right.'
McCrory went to Tuscany with a boyfriend to learn about love, in bed and in art galleries. After a while, the boy went to Africa and McCrory went travelling – France, Spain, Austria. But he pined for her and, without warning, headed back to Europe, tracking her down to a café in Innsbruck (it was a time before mobile phones and Facebook; locating a lost love in Europe required considerable ingenuity, in McCrory's boyfriend's case contacting her father via diplomatic channels). 'I felt this tap on my shoulder and it was him. I fainted. It was the first time I had ever fainted.'
It was an excellent piece of immersive research into how to play Juliet, and when McCrory returned to London – living in a rented room in Finsbury Park with a TV that had to be fed 50-pence pieces – she tried out for the Drama Centre again.
This time, she was accepted (the boyfriend went to Cambridge and the grand love fizzled out). After three years of 'mental torture – it really suited me', McCrory graduated, walking into a job at the National Theatre playing The Bride in Blood Wedding by Lorca, followed by 10 years alternating between there and the Donmar, working like a demon by day, partying like a demon by night.
She might not be such a stalwart of Soho's drinking dens any longer (although a friend who knows her says there is no one in London more fun to stand outside the Groucho and have a fag with) but research remains the cornerstone of her work. 'I am obsessive. As soon as I am offered a part, I write down similarities and differences between me and the character, then I just work on the differences.' For Medea, she spent time with the classics scholar Edith Hall discussing Greek tragedy. 'I read stuff that I hadn't read since I was 17, like Plato's Symposium.'
She has just accepted a role in a Stephen Frears adaptation of the James Graham play The Quiz for ITV, about the former army major Charles Ingram, who was accused of cheating on Who Wants To be a Millionaire? in 2001. McCrory will play the defence QC, Sonia Woodley, and has already been in touch with a criminal barrister friend to arrange a trip to the public gallery to watch her at work.
The other project in the pipeline is for the stage. 'I really want to do Private Lives with Damian,' she says.
McCrory met her future husband in 2003 when they were both in the Joanna Laurens play Five Gold Rings at the Almeida, about a dysfunctional family reunion. The attraction between them was a palpable force in the room. 'I could have warmed my hands on it. It was like directing a fire,' the director Michael Attenborough later commented. McCrory had never really considered getting married before she met Lewis – although she had been engaged a few times. The couple had their first child three years after meeting, their second 14 months later.
When the children were younger, McCrory was a strict parent, making sure there was routine in a life that might otherwise seem chaotic, with one parent in Los Angeles, or a stint of schooling in New York. The structures have become a little looser now that Manon and Gulliver are older.
'There are rules, but they are changing. We are taking them to Latitude next weekend, and the deal is everyone chooses two things [to see] and we all have to go. There will be no walking out halfway through Drake because it is not the clean version!'
McCrory and Lewis try to alternate jobs so there is always someone at home with the children, and this year they have not had a nanny. 'When we go back to work we'll get somebody in, but I turn a lot of work down because I am aware that they are going to be out of here soon.'
The family has just been on a road trip in Cuba, 'not in hotels, staying with families', which was arranged by Lewis. He also organised McCrory's 50th birthday last summer. 'He took me to the Wallace Collection. He got the gentleman in charge to give us a tour, which was my idea of heaven. Then we went to a hotel that will remain nameless, then home.
'When I came down to dinner, my whole family were there and a load of friends. Damian is very good at throwing surprise parties. And because I always dress up, I just happened to have on a 1920s backless blue velvet evening gown with a pair of old Fila trainers.'
McCrory loves clothes; the idea of pulling on a different persona with a different outfit. 'But I'm as happy to wear my pyjamas, old flip-flops and a jumper. I would never worry about whether that was the right or wrong thing to wear.' She does seem not to care about the things that bother so many women in her profession.
She laughs about her latest hairdo (a gamine crop). 'I bumped into Sharlene from [the band] Texas. She is so f—ing cool. I thought, "I want hair like you," totally forgetting that I have tight curls. So I went to the hairdressers, and instead of looking like Sharlene Spiteri, I look like Roy Orbison.'
She thinks that diet fads are 'nonsense', hasn't been to a yoga class for three years, and keeps fit instead by running up and down the many stairs in her house, and cycling everywhere because she doesn't drive.
When I ask if she meditates to manage stress and mental-health issues, she goes silent for the first time during the interview. 'No one has ever asked me that before.' Silence again, slightly intimidating. 'I don't think I am deep enough to have mental-health issues. I just get stressed and worried like everyone else. Sometimes you can work it out, and sometimes you can't and it really upsets you. I married my best friend which helps, so there is always someone to make me laugh.'
She says she lives entirely in the moment. 'I am alarmed by people who make plans, and indeed by people who think about the past.'
She finds modern technology an intrusion, turning her phone off at weekends. She doesn't really care what her home looks like, is disdainful of matching crockery and is famously thrifty, taking her kids shopping for clothes in Oxfam. She embraces robust honesty and criticism: 'Turns out I have the emotions of a sociopath!' All this might make her seem tough, but really she is just certain of herself and switched on to how she feels.
She is also passionate about the power of creativity, and has become deeply involved with the Sir Hubert von Herkomer Arts Foundation. This charity brings access to the creative industries to disadvantaged children in inner- city estates, offering courses such as photography, documentary film-making, art and fashion. McCrory helps with fundraising and awareness raising…
Read the rest of the original article at The Telegraph