Damian Ranks #38 on London Power 100 List
by Gingersnap | damian-lewis.com | March 10, 2020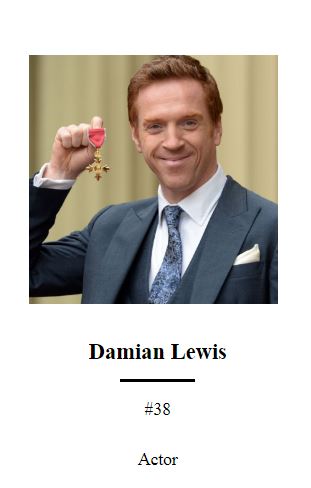 Damian Lewis moves up in the ranks, from #46 last year to #38 this year. Congrats!
Meet the most influential people in London. The new London Power 100 was published today, which is an annual list of the 100 most influential people in London and includes a wide variety of high achievers and power players in the city and from the city of London.
From June each year, two teams of researchers begin curating and researching names for the list which are put forward to a panel of judges for consideration. This part of the process referred to as the "nominating process" is open to the public who can submit their suggestions to the judges via email.
From early November the judging panel begin scrutinizing the list and place individuals put forward in order, taking into consideration their achievements both past and present. Following which, the President of London Power 100 is advised of the final list by the middle of January. After reviewing, the list is published in March.
President Nicholas Taylor stated, "I have had the pleasure of working with and alongside many local businesses, entrepreneurs, charities and media personalities across film, music, and sport who have in some way influenced London's landscape. It is not surprising that 2020's list is made up of individuals who have in some way left their mark on the City, both past and present, from a broad spectrum of skill sets. Congratulations to this year's inductees."
Major stars such as Idris Elba, Benedict Cumberbatch, Damian Lewis, Naomie Harris, Tom Hiddleston, Cara Delevingne, Letitia Wright, David Beckham, Gavin Rossdale, Rita Ora and Mo Farah joined veteran Londoners Sir Michael Caine, Dame Helen Mirren, and Dame Joan Collins on the list, which also features royalty like Prince Harry, Meghan Markle, Duke and Duchess of Cambridge, and Charles, Prince of Wales, along with politicians, restaurateurs and business leaders.
Newcomers include British billionaire S. P. Hinduja, singer Harry Styles and Tottenham MP David Lammy whilst Dragons' Den tycoon Tej Lalvani and West Ham United Football Club's CEO Baroness Karren Brady all made a debut on the list.
Continue reading Damian Makes 2020's London Power 100 List – March 10, 2020