Drama Queen
by Lydia Slater | Evening Standard Magazine | August 25, 2006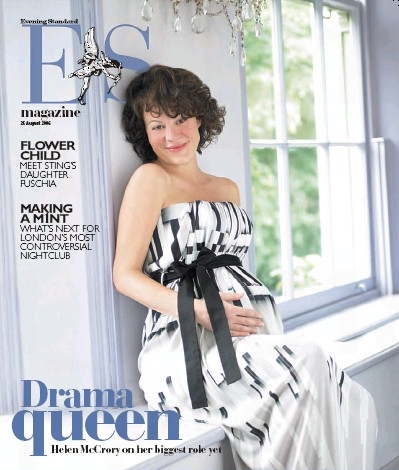 Perched on a velvet sofa in the elegant sitting room of the Cheyne Walk Brasserie, Helen McCrory strokes her Stella McCartney-clad stomach and smiles under heavy eyelids, rather like the cat who's got the cream. As well she might. Life has never seemed to be particularly tough for McCrory, 37, who has been winning plaudits for her acting ever since she took her first role in the National Theatre's production of Trelawney of the Wells, and who is constantly tipped as the next Judi Dench.
But even by her own high standards, the future is looking pretty rosy. She is eight months pregnant with her first child, and has an unnervingly perfect celebrity bump – no fat ankles or swollen face, just a watermelon at the waistline and a correspondingly magnificent bronzed cleavage. "I've never worn so many low-cut dresses in my life. If I could just wear spangles, I would. I feel so amazingly attractive," she gurgles throatily, with total justice if our young waiter's saucer eyes are anything to go by.
McCrory doesn't appear to notice him but then if you're engaged to Damian Lewis, star of The Forsyte Saga and Band of Brothers (and arguably the sexiest redhead on the planet), waiters probably come rather low in the pecking order. "I've never been broody before, but when I met Damian I became very different about relationships," she says.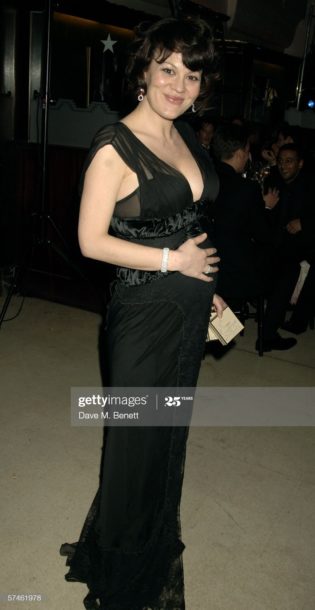 Lewis will be with her at the September birth of little Boris, her pet name for the fetus which she is convinced will be a boy. The birth will be at St. Mary's Paddington, where both she and Lewis were born, and she's hoping to keep it as natural as possible. But the only instruction she's written on her birth plan is that he and not the midwife tells her the sex of the child. "I'm just so excited about becoming a parent with him," she confesses. "I really wanted Damian to do it because it's our child and it's going to be the most extraordinary experience in our lives. It doesn't get bigger than that." Will he cope? "He's not weak stomached. I think he'll be very good at it. At the beginning, he knew more about it than I did."
Although we spend most of our meeting discussing labor and breast-feeding, we're supposed to be talking about McCrory's portrayal of the Prime Minister's wife in Stephen Frears' new film, The Queen, dealing with the aftermath of Princess Diana's death, when the mood of the country turned dangerously Republican for a bit.
Helen Mirren stars as the Queen, and McCrory is great as Cherie, pulling off the slightly scuttling walk and the adoring gazes at her Tony perfection. "It was very difficult to research," she says. "There's lots to read about her, but actually seeing footage of her talking, walking, moving around, there's hardly anything."
Her resolute lack of vanity when it comes to playing her roles ("Are you an actress or a B-list celebrity?" she says scornfully) has the fringe benefit that she is rarely recognized in the street and has managed to keep her personal life mostly under wraps.
For a while she dated Rufus Sewell, with whom she starred in Charles II: The Power and the Passion. Similarly large of eye and curly of hair, they were once thrown out of a pub for snogging by an appalled barman who thought they were brother and sister. "Oh, that seems like another life," is all she will say on the subject of Sewell.
Given McCrory's publicity-shyness, one can't help but wonder whether marrying a fellow high-profile actor may prove rather a shock. She and Damian got to know one another when they starred together in a terrible play at the Almeida called Five Gold Rings. The tempo of an otherwise sluggish evening, when I saw it, was raised mightily by a passionate love scene between the two. In fact, she says, it wasn't for another year that they got together, although she refuses to be drawn to the details.
Is it tough, though, dating a man who gets sent knickers in the post from female admirers? "No! Nobody wants to marry someone nobody else wants! It's part of his job, and it's part of my job as well. Damian doesn't mind; he just puts the flowers in the back of the car and drives home. We understand where it comes in life. It's because people project on to you; some people are like that," she says pragmatically.
Off stage, the pair have been leading a life of peaceful domesticity. "We've had such a lovely time. Damian's taken time off and we've been to Wales, Cornwall, Dorset, Paris and Spain, and gone to galleries and the ballet, and sat in the garden and read, and cooked, and just had an amazing few months," which explains the caramel tan and the general blissed-out air. "We've completely and utterly, as my grandmother says, stepped out together," she goes on.
The couple are due to marry next summer in Wales. "I decided I wanted to be skinny and drunk rather than fat and sober," she jokes. In the meantime they bought a house together in Tufnell Park, North London's Nappy Valley, which they are having done up. "Good schools," she intones like a mantra, "near the Heath…"
"When we first drove into the area, I had hives," adds the actress, who until recently lived in the rather trendier enclave of Spitalfields. "I was like, 'Oh, I can't, there aren't any art galleries, there's no cinema!' But you suddenly realize that when you have children, what you want is green spaces. Your priorities change."
Thankfully for her fans, McCrory can't imagine retiring into motherhood for long. "I like going out, meeting new people. I can't see myself being satisfied at home. It's been strange being pregnant: it's the first time I haven't worked."
She already has two typically eclectic film projects linked up for early next year: one, a comedy about couples in London going for marriage counseling; the other, a gritty drama about moneylenders in Glasgow. Naturally, baby Boris will be going along, too. Despite her success, McCrory isn't quite sure about the idea of him (or her) following in her footsteps into the limelight. But with such high-quality greasepaint in the genes, you can't imagine any alternative.
Read the entire full article here