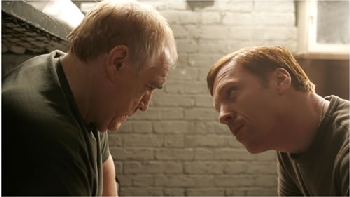 Update on The Escapist (spoilers!):

» This site offers a preview of the film along with several production photos including the above picture of Brian Cox and Damian Lewis; click here to view the full-size photo in the Warehouse.

» This film reel was proposed by Vertigo Films as the title sequence for The Escapist (but it is not yet known if this sequence was actually used the film.)

» Click on the links below for articles/comments about the film:
l 1 l
2 l
3 l

» The world premiere for The Escapist will take place at the Sundance Film Festival in Utah on January 21st and Damian Lewis is expected to attend.

Two audioclips of Damian Lewis's voice have long been available for listening on the Markham & Froggatt site (his UK agents) but these clips are now also offered for download in MP3 format. One of the clips offers an automobile advertisement and a public service announcement and the other clip is a narration for a program about medical errors.