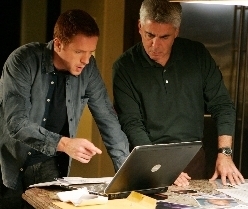 On January 30th actor Adam Arkin (who plays Ted Earley on Life) made a guest appearance on the Late Late Show hosted by Craig Ferguson on CBS, the US network. He talked about the show, his role, the cast – including the main character – a detective played by "the excellent English actor Damian Lewis." They showed a clip featuring Damian and Adam and they also spoke about the screenwriters labor strike. Adam confirmed that the program will return after the strike. Click here for more information.

Last October 31st, Bob Rivers of 102.5 KZOK-FM radio in Seattle interviewed Adam Arkin about Life and Adam commented that Damian Lewis is a tremendous actor and a terrific guy. On December 5, 2007 Bob Rivers also
interviewed Damian Lewis about his role as Charlie Crews on Life.

Here's another Adam Arkin radio interview from last October with Tony Rose of 100.7 FM – SAM in Bowling Green, KY. Robin Weigert who plays Lt. Davis on Life also gave a radio interview last December on The Tony Rose Show.

New video clip with Damian Lewis!

Mark Bell of Film Threat interviewed Brian Cox at the Sundance premiere of The Escapist. Co-star Damian Lewis appears at the start of the clip and can be seen in the background with Director Rupert Wyatt throughout most of the interview. The clip is available in small and large formats and can be viewed with
QuickTime or VLC.

In this Sundance Film Festival article for The New Republic Chris Orr says:

Easily the best movie I saw was The Escapist, a throwback prison-break film starring the great Brian Cox. After an unforgettable early turn as the original Hannibal Lecter in 1986's Manhunter, Cox has made himself one of Hollywood's irreplaceable character actors with robust scene-chewing in such films as Adaptation, X2, and the first two Bourne movies. In The Escapist, he dials back the bombast, finding a quieter, sadder key for the character of Frank Perry, a veteran con man whose only advantage on the inside is that he's "too old to die young." Frank has made his peace with incarceration, but when he receives news that his young daughter has become an overdose-prone junkie, he decides he's getting out, and soon.

The film, by first-time director Rupert Wyatt, alternates between the breakout itself and the fraught preparations for it–among them, the difficult placation of "Rizza," a violent hood who essentially runs the prison and who is played by Damian Lewis with a cold, quiet charisma that may be the closest thing to Steve McQueen since Steve McQueen. (Keep your eyes on this one.) The film concludes, unexpectedly, with a gimmicky ending of a kind I generally abhor, but it is so movingly executed that it is all but impossible not to forgive. The Escapist doesn't yet have an American release date, but it's a film worth waiting for.

This viewer comment about The Baker starring Damian Lewis was posted by amfr4 on IMDb. Remember to rate and share your opinions whenever you have the opportunity to see a new film featuring Damian.
Do a good deed for Damo!

Damian Lewis's birthday is February 11th and his supporters are making a special effort to perform a kind or charitable act in his honor to celebrate the event; click here for more information.