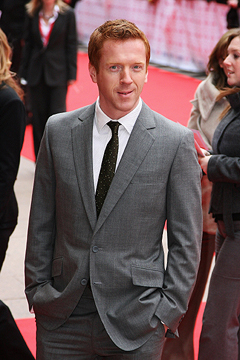 Damian Lewis was a presenter at the awards ceremony for the The Prince's Trust and RBS 'Celebrate Success' campaign. The awards took place tonight at the Odeon Theatre in London's Leicester Square. Prince Charles attended the event as well as many other public figures including Gwyneth Paltrow and Kevin Spacey.

» The Celebrate Success program recognizes the accomplishments of young people who have triumphed over disadvantages such as homelessness, drug addiction, poverty, and unemployment. The Daily Mail reported that Damian presented the RBS Community Impact Award to a team of unemployed young people who revived a Second World War memorial garden in Witton, Birmingham. Lewis said:

"Civilians who died in the World War II heavy bombing were often buried without a permanent tombstone. I think the young people from this Prince's Trust team did an amazing thing, providing a crucial place for relatives to remember their lost ones."

» Click here for red carpet photos of Damian at the Prince's Trust event (and thanks to Dryope for the high-quality images!)

» BBC News 24 asked celebrities at the awards to comment on the sad and untimely death of filmmaker Anthony Minghella; click here for the video clip which includes some remarks from Damian Lewis. (Thanks to currahee060644 for alerting us about this.)

A new character will debut on season 2 of Life starring Damian Lewis. According to the Watch With Kristin column on E! Online:

"They're adding a new cop to the team named Captain Brian Tidwell. I'm hearing he's a rough around the edges hottie. Apparently he's got a thing for sports betting, whiskey and women. Sounds like the guy is a bit of a mess, but in the most endearing sort of way."

Thanks to Ann for giving us this news!

svirginiak has posted a great Life music video called Charlie Crews Has a New Life on YouTube.
Information on IMDb indicates that The Escapist featuring Damian Lewis will be theatrically released in The Netherlands on September 25th; the film is scheduled for release in the UK on June 20th.
In addition to the high-quality pics from the Prince's Trust event Dryope also has images from a new Damian Lewis photoshoot for our enjoyment! 😀
This article discusses the Iraq War as told on film including The Situation starring Damian Lewis. The US televison premiere of this Philip Haas movie will take place on Wednesday, March 19th on the Sundance Channel.
Linda from Belgium shared the sad news that two more of the original Easy Company Band of Brothers, Maxwell Clark and James 'Moe' Alley, passed away on March 14th.