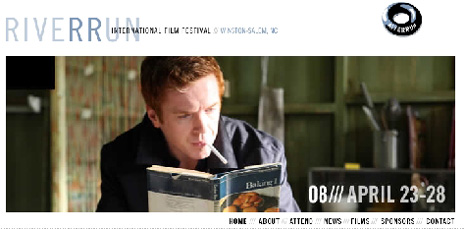 This article in the Winston-Salem Journal states that the first screening of The Baker today at the RiverRun International Film Festival was sold out! ➡

A festival attendee named Alextris filed this report:

"Saw this movie today at the River Run Festival in Winston-Salem NC. Gareth Lewis was answering questions after the showing and said that negotiations were underway for a US release. He didn't give any further info…but if you have the chance to see this movie, do it."

In a Comedy Centric interview actor Adam Arkin had this to say about his role as Ted Earley on Life starring Damian Lewis:

"… Acting on the show has been a lot of fun, primarily because most of the acting I get to do is with Damian, who I have felt a great deal of camaraderie with and I like to think we have similar approaches to the work. We are serious about the work but we don't take it seriously, which translates to being able to relax, have a good time, and get the work done.

Any time you get a chance to work with live animals and have horses on sound stages and swim with coyotes, how can you not be having a good time? And I also have to give a shout-out to Sarah Shahi, who has been doing fantastic work on the show. She's both a terrific person and professional"

Arkin's comments about the new Friday night timeslot on NBC included:

"First of all, we haven't been working together as a company since we got the news. We've been on hiatus since the writer's strike began, and we don't start working until June. But that being said, there are pluses and minuses to the schedule change. The minus side is that it's not considered a hot night, and it's a night that's traditionally considered for a lower number of viewers.

But there are two additional pieces of information in response to that. Number one, because of the preponderance now of people using their TiVos, and the amount of people watching shows online or recording and streaming video, the scheduled night is not as important as it once was.

And the other issue is that being on Friday night also means that the network doesn't have as much vehement competition on that night. It's a night on which we may have a very long life (no pun intended), so I don't think anyone's overly upset about it. The fact that we were picked up by NBC is a much bigger deal than what night we air on. …"

Click here for a new Life music video from hani273nhk on YouTube.