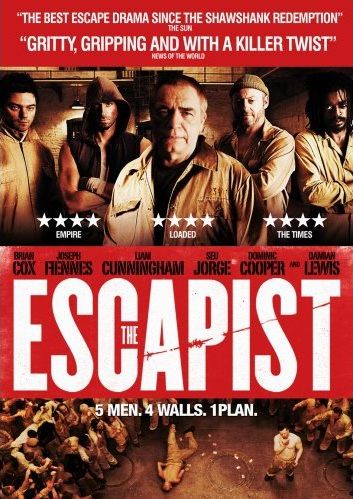 Cover art is now available for the region 2 DVD for The Escapist featuring Damian Lewis. The DVD will be released in the UK on October 13, 2008. This viewer gives the film 5-stars:

"5 star prison break film, 1 Aug 2008 by Eagle Wizard
If you like prison break films this is brilliant. Its got a great british cast featuring Brian Cox, Stephen MacIntosh, Joseph Fiennes and Damian Lewis. Lewis is superb in the role of a deranged prison enforcer…. Brian Cox plays a troubled inmate plotting to escape to see his long lost daughter…its a thrilling ride as the plot to escape unfolds. Well worth a watch."

The DVD has been rated "15" by the British Board of Film Classification. Note: Region 2 DVDs will only play in multi-region (region-free) DVD players or in region 2 players (UK, Europe, Mideast, Egypt, South Africa, and Japan.)

The region 4 DVD for An Unfinished Life with Damian Lewis has been released in Australia. The film is also available on DVD in region 1 (US and Canada) and region 2 (UK, EU, Mideast, Egypt, So Africa, and Japan.)

On August 16th in Greencastle, Indiana the Putnam County Public Library will feature An Unfinished Life as their "Teen Pizza and a Movie Night." On October 28th author and screenwriter Mark Spragg will make a guest appearance at the library to discuss the book and film. Click here for more information.