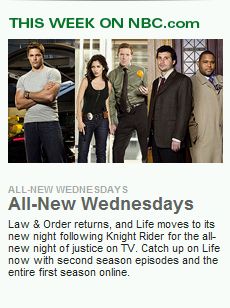 Last night's Sunday Night Football show on NBC included multiple promos for Life starring Damian Lewis. The program will move to Wednesday nights starting November 5th; click here to read about the network's new Wednesday night line-up.
Spoiler warning! Click here to read the cast descriptions for episode 2.13 of Life titled "Re-Entry"; source: SpoilerTV.
IMDb indicates that The Escapist with Damian Lewis was released in the United Arab Emirates on October 30, 2008.