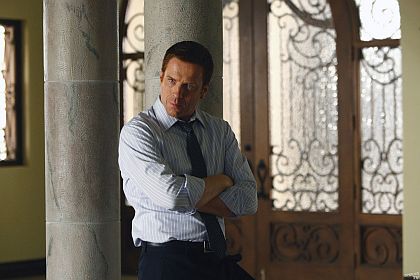 Click here for new still photos from Life episode 2.12 titled "Trapdoor" that will air in the US on December 17th. The photos include pictures of Charlie's estranged father Charles Crews, Sr. played by actor Geoffrey Pierson.

Once again many thanks to dryope for the photos! 😀

Life will go on a short hiatus after the December 17th US broadcast of "Trapdoor" but according to this article in Zap2it.com the show will return on February 4, 2009 with episode 2.13 titled "Re-entry" (thanks to Sal for the link!)
Click on the arrow above to view the preview (posted on YouTube by TubedOutNow2) for Life episode 2.11 titled "Canyon Flowers" that will broadcast in the US on NBC on December 10th.

Click here for a new Life music video by ChuckR7 titled "Life Charlie Crews See You In My Nightmares."

The UK's ITV3 channel is currently running a multi-part series called The Story of the Costume Drama that may feature many of ITV's famous period dramas including The Forsyte Saga and Colditz starring Damian Lewis.