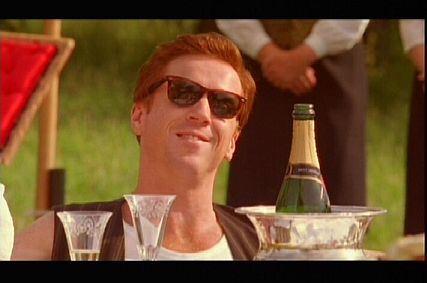 Happy New Year! Best wishes for health, prosperity, and joy in 2009! ➡
Spoiler warning! The January 5, 2009 issue of TV Guide offers several tidbits about upcoming episodes of Life starring Damian Lewis:

"Where we left off: Ted was in prison on trumped-up charges and finding protection from Charlie Crews' jailhouse pals. Crews lay near death after being shot in his home by an unknown assailant. 'The goal was to get Crews' personal and professional and conspiratorial life all crashing together,' says Life executive producer Rand Ravich.

What's next: 'The fun of his shooting is that Charlie saw who did it and he's not telling anybody!' says Ravich. 'When he recovers, he'll track that person down and deal with it on his own.' On other fronts: Crews works to get his roomie Ted out of jail, and Dani questions Crews about her father's role in the conspiracy to frame him for murder."

Here is the scan of the TV Guide article in the Warehouse; also thanks to Ann for the transcript.

NBC is running ads for Life on their home page at NBC.com; the show will return on February 4, 2009 with episode 2.13 titled "Re-entry". Click here or here to find episodes of Life online.
Thanks to Virginia for the news that the complete season one of Hearts and Bones (2000) is now available in multiple parts on YouTube.

There are many scenes featuring the young (pre-Band of Brothers) Damian Lewis in this terrific series. The region 2 DVD set for Hearts and Bones is offered for purchase in the UK. (Note: Damian only appears in season one; he left the show to begin filming Band of Brothers after the first season.)