Click above to see writer/director Rupert Wyatt's recent ComingSoon.net interview with Edward Douglas about his film The Escapist that will be released in the US in New York City on April 3rd and will also be available to video on-demand TV viewers starting April 1st.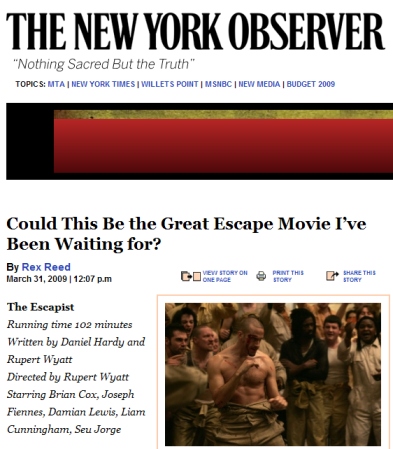 Rex Reed of the New York Observer gave The Escapist a fantastic review:

"The Escapist, a compelling, carefully written and totally gripping film from the U.K. that is acted with naturalism and conviction by a smashing cast…It stars the versatile, always astounding Brian Cox as Frank Perry…Frank plans a daring escape with the aid of three other convicts (Joseph Fiennes, Liam Cunningham from the film Hunger, and Brazilian musician Seu Jorge, who are all perfect)…Director Rupert Wyatt, making his feature-film debut, juxtaposes the clandestine eight-day digging and the clandestine rehearsals for the big break with the actual escape itself, mixing up time and action…Mr. Wyatt does it without the usual CGI and high-tech special effects that make these epics look preposterous. Everything in The Escapist looks real for a reason…

The great thing that emerges from the debris is the human element…For Frank, redemption is triggered by the arrival of a terrified new cell mate named Lacey, played by Dominic Cooper…

Rizza's (Damian Lewis's) sadistic control of the prison population slowly turns into a wedge between the escape artists and their freedom…Ignoring Rizza's warning ("You got one thing going for you, Frank—you're too old to die young"), Frank makes a decision that changes the future of his own existence—and the outcome of the escape…

Physically violent and psychologically probing, The Escapist reminds me more than any other film of the sensational, groundbreaking TV series Oz, but it's not really an action film…t's a fine piece of work that passes 102 minutes swiftly, and Rupert Wyatt shows great promise. You won't feel the need to escape from The Escapist."

Film critic Marshall Fine's review describes The Escapist as "Taut, full of soul but with no sentimentality" and goes on to say that he:

"…particularly liked Damian Lewis as the chilly Rizza. Lewis, so entertaining as Det. Charlie Crews on TV's "Life," here is the picture of calm menace: no hair out of place, prison uniform immaculately pressed – a man in control until forced to confront the reality of his situation…. 'The Escapist' won't change the world but, for 102 minutes, it will pull you into a world from which you won't want to escape."
Click above to see a "teaser trailer" for Damian Lewis's guest appearance as the voice of Agent 00 0 on Phineas and Ferb on the Disney Channel in the UK. "Elementary My Dear Stacy" is the episode featuring Damian and it will air on Monday, April 13th at 11:20am.

There is an unconfirmed report that Helen McCrory is part of the voice cast for a new animated film titled the Fantastic Mr. Fox that is scheduled for release on November 6, 2009. George Clooney and Cate Blanchett will play Mr. and Mrs. Fox and other cast members include Bill Murray, Jason Schwartzman, and Anjelica Huston. Meryl Streep and Helen's Harry Potter co-star, Michael Gambon, are also rumored to be in the film.
Reminder: Alex Rider: Operation Stormbreaker featuring Damian Lewis is available in the US on HBO On Demand until April 5, 2009.