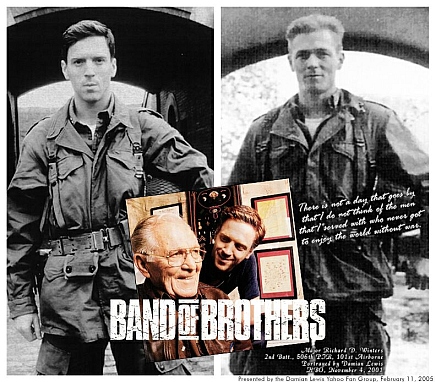 Congressman Holden of Pennsylvania has introduced a new resolution in the U.S. House of
Representatives to award Major Richard Winters the Medal of Honor. If you've seen Damian Lewis's portrayal of Major Winters in Band of Brothers then you understand why he deserves this recognition. U.S. citizens are asked to contact their Congressional Representatives to request support for H.R. 3121.

Click here to read the text of H.R. 3121 and click here for letter-writing suggestions. Thanks to Connie and Linda from the MajorDickWinters site for the information!

Click here to access the above composite image of Damian Lewis and Major Winters that was created by Ryoko.

Information posted on IMDb (click on the links below) suggests that Damian Lewis will play the "Evil Wizard Leezar" in his new film titled Your Highness. The production is currently filming on location in Northern Ireland.
l 1 l
2 l
3 l

According to VideoETA the region 1 (US and Canada) DVD for The Escapist with Damian Lewis is estimated for release in September 2009.

Penne Hackforth-Jones's review of The Escapist includes this comment:

I loved Damian Lewis in another fantastic variation of himself…the first I have seen since the telly production of 'Life'. A very loathsome reptile he can be too.

Kaz shared this Times Online article titled "Why Brits rule on US TV" that states:

And why did Damian Lewis (Eton, RSC) win roles in two series of Life?

So grim is this state of affairs that America's National Public Radio interrogated the makers of Life, who confessed: "What we found out about English actors is that they're funny. We had a hard time finding an American tough guy who will be the butt of the joke, whereas Damian has no problem doing it. He's like half Stan Morrow and half Steve McQueen." It turns out that slightly imperfect looks and even British bad teeth are more convincing. The Life producers added: "You could argue that in our system, if you're a young actor who isn't leading-man handsome, you're probably not going to get nurtured the way that you would in England, just based on talent.

The HeyUGuys site is featuring photos from Cambridge Jones's new book Inspired By Music including images of Damian Lewis that are available in the Warehouse.

Damian Lewis is an ambassador for the Prince's Trust; profits from sales of the book will benefit this charitable organization. The volume can be purchased at Starbucks stores in the UK or it may be ordered online from Amazon (UK) and
Tower Books (US).

Thanks to Linda for the news that Flemish channel 2BE will broadcast Stormbreaker with Damian Lewis in Belgium on Saturday July 18, 2009 at 20h40.