Click above to watch a video interview with Damian Lewis discussing one of his passions – playing golf! 😀

Damian will be featured in next issue of Today's Golfer magazine that will be released in the UK on August 13th.

In the interview Damian talks about taking part in the Northern Rock All Star Cup at the Celtic Manor in Wales in August, 2006. Click here and scroll down to download clips from the event (thanks to Kaz!) and click here to view photos from the charity tournament.

Damian Lewis is currently filming Your Highness in Northern Ireland and lucky blogger simonf spotted him today and posted this comment:

Damian Lewis walked past us this afternoon carrying a Next bag. First proper Hollywood actor I've ever seen in Belfast.

How come that never happens to me?! 😥

The Guardian has published a clip from Cartier's International Polo Day on July 26th and there's a brief glimpse of Damian Lewis and Helen McCrory at 3:59 minutes. Thanks to Ryanne for the link!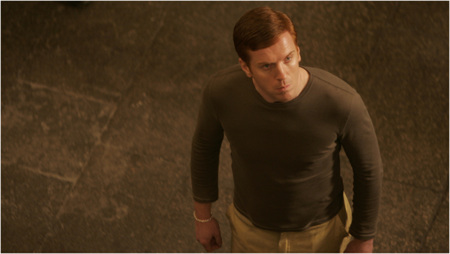 Click here to access the "Press Kit" for The Escapist including these comments from Damian Lewis about his sinister character Rizza:

"It's an important but small role," admits Damian of his character. "I see Rizza as the evil centre of the prison. He's a self styled prison boss, he's running the prison from the inside. He has to control his younger brother who's a loose cannon."

"Rizza is an unusual kind of figure in the prison: the prison and the people inside the prison were his boys and that's how he wanted it to be. He never wanted his authority challenged; he'd do anything to maintain that status quo. It's quite an effeminate role and that ties in nicely with the brother. There's malevolence but effeteness at the same time."

Damian especially enjoyed the moral ambiguities of Rizza. "He's very affectionate about his brother – he'd do anything to protect him but he's utterly ruthless. You have to be to remain at the top in this setting. He does business daily through violence and intimidation, but I liked the idea that there was something effeminate about him – something preening and self-regarding. He's a thug but also a weird feminine sophistication."

The Escapist was recently released in Australia and Rialto Distribution and Vertigo Films ran a promotion offering students at the
University of Technology in Sydney chances to win "25 Double Passes" to see the film. Keep your eyes open for opportunities like this in your area!