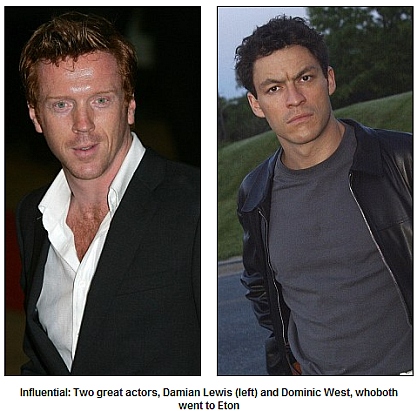 The Mail Online is featuring this article about actors Damian Lewis and Dominic West:

Which old Etonian influenced Damian Lewis?

Actor Damian Lewis, 38, says a great performance influenced him – Dominic West playing Hamlet at Eton, aged 17.

West starred in the cult cop show, The Wire, as tipsy, womanising detective Jimmy McNulty.

After playing Hamlet at Eton – Lewis was a contemporary – his English master said he should consider 'doing this as a job'.

At 39, West's maybe a wee bit mature to play the immature Dane but fiddle de dee, as they say. After Baltimore, Elsinore?

News about Your Highness with Damian Lewis, currently shooting in Northern Ireland:

» A "horse and cart" scene was shot at Shane's Castle in County Antrim during the last week of July.

» Scenes are also being shot near Bangor at the Clandeboye Estate.

» Actress Caroline Grace-Cassidy from Dublin has been cast as the "Handmaiden" in Your Highness.

» The main set for the film is being constructed at the historic Paint Hall in Belfast. The road outside of the studio has been closed to traffic ever since a tourist snapped the picture below that shows the set under construction.