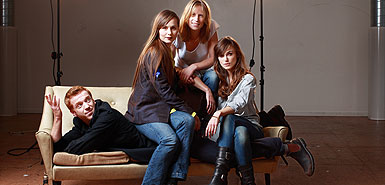 Jasper Rees of the Times Online has published a new interview with Damian Lewis, Keira Knightley, Tara Fitzgerald, and director Thea Sharrock for The Misanthrope. Damian's comments about returning to the stage include:

I think it makes you a much better actor when you come back. It makes you more detailed and less generally wanting to present yourself out front… In film, you don't have to think about anybody. You learn your lines, you come up with your idea for your part on your own; you might get a day's rehearsal, you might get one minute's rehearsal. On stage, the wonderful paradox is, it's massively empowering while at the same time utterly exposing. You never have that fear on camera. You can do it again.

Click here at The Misanthrope's official site to order tickets. Previews begin at London's Comedy Theatre on December 5, 2009! Interested in getting together with other fans to see the play? Click here at the Yahoo! Group for more information.

Click here for a new Damian Lewis fan video by 123CeeGee. The background music is Damian Lewis as Simon Fuller singing Hello Dolly's "Just Leave Everything to Me" in Posh and Beck's Big Impression. Click here to see the actual scene from this 2004 BBC comedy spoof.

Thanks to jellybean for sharing the news that Australia's Seven network has recently been re-broadcasting the Band of Brothers mini-series starring Damian Lewis.