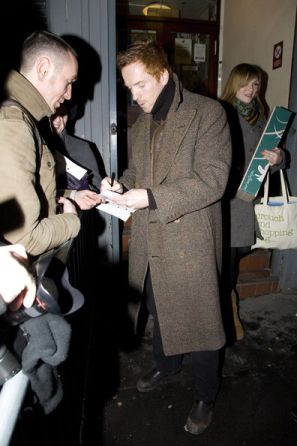 News from the blogosphere about The Misanthrope starring Damian Lewis:

» Gem shared this press photo of Damian signing an autograph after borrowing her pen! She has also posted comments about the play at the Damian Lewis Yahoo! Group forum.

» Parimal Satyal had this to say about Damian's performance:

Damian Lewis is amazing. The entire cast is brilliant, really, but Damian as Alceste absolutely shines. There's something about the cynical, hyperbolic way in which he delivers his lines that gives him a somewhat comedic yet powerful presence on-stage.

» In the Left Lane has posted some great photos taken inside and outside of The Comedy Theatre.

More reviews of The Misanthrope:

» Christopher Gray of the Oxford Times said that the character of Alceste:

…is brilliantly presented by Lewis, who really spits out the many cleverly crafted insults placed in his mouth by Martin Crimp in his neatly rhyming version in English.

» Ian Shuttleworth of the Financial Times gave the play 4 stars and said:

Sharrock directs with a sensitivity towards the springy verse of Crimp's text; Damian Lewis is nicely spiky as the pathologically plain-speaking Alceste (and even suffers a ginger-hair joke into the bargain), and it is heartening to see such a deliberately unsettling double-twist ending to a comedy on a West End stage.

New Life music videos on YouTube:

» "Life: Charlie and Dani – Let you go" by Noomi65.

» "Life – Running Up The Hill" by CSImaja.