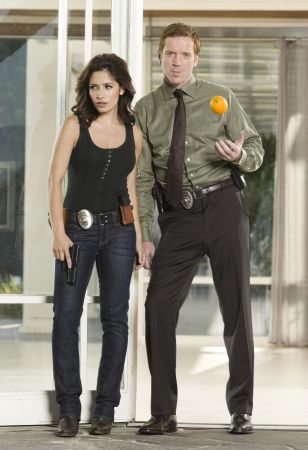 Praise for Life starring Damian Lewis:

Television critic Jeff Hidek of the Star News included Life in his list of "The Most Enjoyable Shows of 2009" and M. Begum of the Star Online wrote about "exciting liaisons" on TV saying:

Life (2007) – It's never enough to reiterate this fact: Life has been taken away from us way too soon. Sigh. It was enough just watching actor Damian Lewis fill out our TV screen as Detective Charlie Crews, making the most of his character's strange antics and passion for fruits while trying to deal with his messed-up head from having served time in prison. At the same time, however, it's interesting to see how Crews can invoke hilarious reaction from his partner, Dani Reese (Sarah Shahi) and then later, Jane Seever (Gabrielle Union). We miss that.

Thanks to Monique for the news that the TF1 network in France is currently rebroadcasting Life – Season One; the second episode will air on January 10, 2010, check your local listings.

Damian Lewis is currently starring in The Misanthrope at London's Comedy Theatre; below are recent comments from lucky theatre patrons who had the opportunity to see the play:

» Alobear said: "Damian Lewis was excellent, by far the best performance, and the only actor who never struggled with the rhyming dialogue."

» According to LowKeyHighFlyer: "Damian Lewis is really excellent in the title role, confirming my opinion from seeing him on TV."

Enjoy lovely new Damian Lewis icons from SongStressIcons and LittleNotebook .

"Damian Lewis – The Red Fox" is a new music video on YouTube by LoveGB1993.