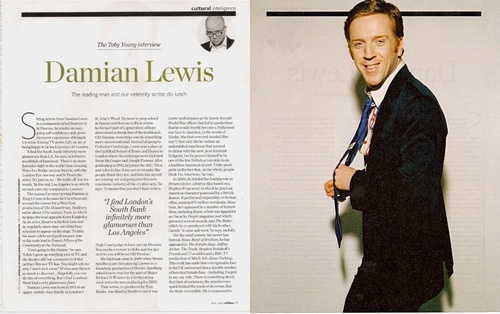 Gallery update: Click here at the gallery for a Damian Lewis interview from John Lewis Edition.

An excerpt from the interview:

I ask him if he overlapped with David Cameron at Eton. He gives me a funny look and I immediately correct myself: 'Of course, he probably left before you got there.'

'Actually I'm considerably younger,' he says.

I start laughing, assuming he's joking, then quickly realize he's not. Cameron is 43 while Lewis is 38. Oh God! What have I said? 'Sorry about that,' I say, slapping my forehead. 'I'm an idiot.'

'Don't worry,' he says, 'I just look old before my time. It's the effect of all the drugs.'

😆

Click here for items autographed by Damian Lewis (after a performance).

Many thanks to June for all the scans!