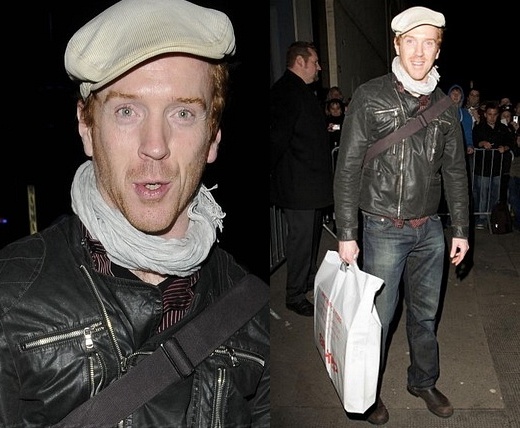 Gallery update: Click here at the gallery for pictures of Damian Lewis leaving Comedy Theatre and at The Ivy restaurant on Saturday.

Click below for Youtube videos of Damian at The South Bank Awards Show last Tuesday.

At the 1:20 mark:

At the 2:15 mark:

Damian leaving the Comedy Theatre last week:

Thanks to Ann and G for the headsup!

A couple more positive reviews for The Escapist which was released on DVD in the US this past week:

Amy Longsdorf of The Record

Brian Cox, so good as Hannibal Lecter in "Manhunter," goes behind bars once again for a gritty prison drama with a whooper of a twist ending. Cox plays a lifer determined to break out of a London penitentiary in time to save his estranged junkie daughter from certain death. Brutally violent, the film benefits from fine performances by Dominic Cooper, Joseph Fiennes, Steven MacKintosh and Damian Lewis.

David Roark of Pegasusnews.com

The Escapist, however, exceeds the confines of its genre by relying on its characters and their realism rather than the formula, though without fleeing from stock elements, resulting in a raw and believable film that leaves you thinking. … Beyond realistic characters, Wyatt takes the genre a step further with metaphor. Though it's subtle and slightly ambiguous, this element adds an interesting twist. Not to mention, the way it plays out is captivating.