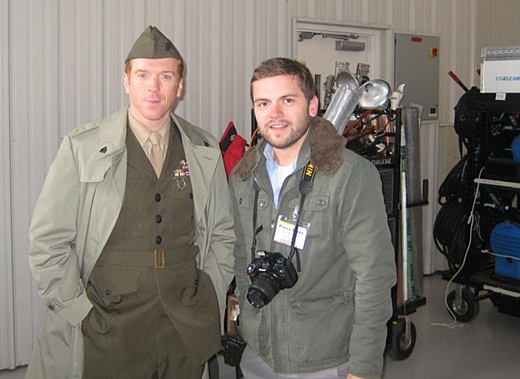 The Charlotte Observer has more information on the Homeland pilot currently filming in Charlotte:
Hollywood comes to N.C.

Gordon says North Carolina was an easy sell for his "Homeland" team.

"The tax credits were great, and Claire Danes and Mandy Patinkin, who are two of our lead actors, are based in New York (so) it was a commutable distance for them," says Gordon, whose executive-producing credits also include "The X-Files" and "Buffy the Vampire Slayer." "We scouted Wilmington as well, but the architecture and everything worked better here."

Charlotte is standing in for the Virginia-D.C. area, Gordon says.

In addition to the Carolinas Aviation Museum, filming is taking place at locations including south Charlotte's Mountainbrook neighborhood, the Ritz-Carlton in uptown, and the closed Philip Morris USA plant in Concord, which is doubling as the CIA headquarters.

The show stars British actor Damian Lewis as a U.S. Marine sergeant who comes home a war hero after having been held as a prisoner of war in Baghdad for eight years, during which time he was presumed dead. Claire Danes ("Temple Grandin") plays a CIA agent who suspects that he's plotting an attack on America.

Gordon says the plan is to continue shooting in Charlotte if the show gets picked up.
For those near Charlotte – there are still calls for extras! To keep track of Homeland casting call news visit the Homeland Casting Facebook page.