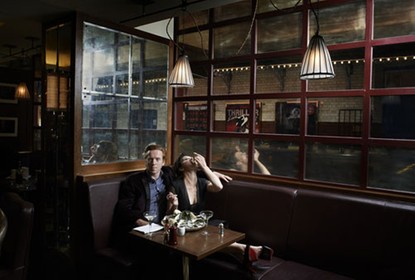 Damian Lewis and Helen McCrory are both featured in this week's ES Magazine and talk about family and their old party animal days.
Helen and I partied very, very hard before we met and then we collided at the Almeida in 2004 [in Five Gold Rings] and together we partied even harder. We used to lose entire evenings listening to jazz at Ronnie Scott's. We love to dance, and when we weren't out we'd put on music really loudly and dance around the house, just the two of us.

I proposed to Helen in Paris. I tried to do it on the Pont Neuf – I was sweating bullets and wrestling in my overcoat pocket for the ring, which had got stuck in a little Cellophane bag, but when I finally got it out, a gaggle of Japanese tourists surrounded us like a flock of seagulls, taking pictures, and the moment was totally destroyed. I now take Helen back to Paris for three days without our two kids [Manon, four, and Gulliver, three] every February for our anniversary. We walk about the city, and sit in bars drinking rosé.
Click here to read the rest.
Update: I've added screencaps from the e-dition to the gallery.
Small update from Michael, Damian's assistant: Damian left the UK on Wednesday and is now in Charlotte. According to the Homeland Casting Facebook, filming starts on June 14th.