Damian Lewis and Helen McCrory at J Sheekey
by Lucy Hunter Johnston | The Evening Standard | June 10, 2011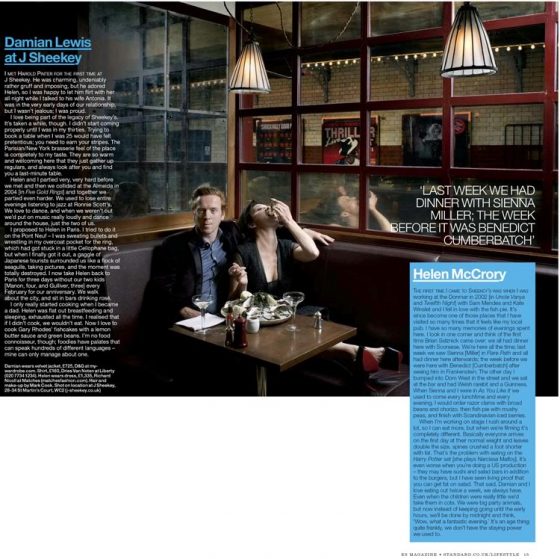 Damian Lewis
I met Harold Pinter for the first time at J Sheekey. He was charming, undeniably rather gruff and imposing, but he adored Helen, so I was happy to let him flirt with her all night while I talked to his wife Antonia. It was in the very early days of our relationship, but I wasn't jealous; I was proud.
I love being part of the legacy of Sheekey's. It's taken a while, though. I didn't start coming properly until I was in my thirties. Trying to book a table when I was 25 would have felt pretentious; you need to earn your stripes. The Parisian/New York brasserie feel of the place is completely to my taste. They are so warm and welcoming here that they just gather up regulars, and always look after you and find you a last-minute table.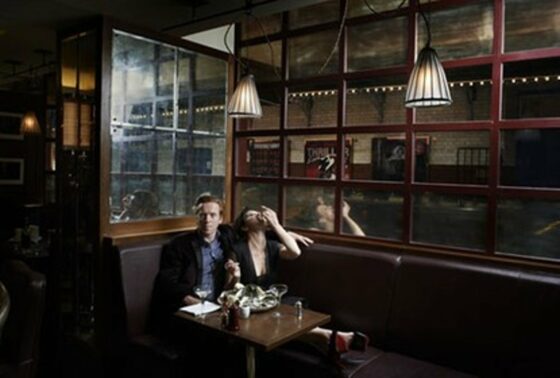 Helen and I partied very, very hard before we met and then we collided at the Almeida in 2004 [in Five Gold Rings] and together we partied even harder. We used to lose entire evenings listening to jazz at Ronnie Scott's. We love to dance, and when we weren't out we'd put on music really loudly and dance around the house, just the two of us.
I proposed to Helen in Paris. I tried to do it on the Pont Neuf – I was sweating bullets and wrestling in my overcoat pocket for the ring, which had got stuck in a little Cellophane bag, but when I finally got it out, a gaggle of Japanese tourists surrounded us like a flock of seagulls, taking pictures, and the moment was totally destroyed. I now take Helen back to Paris for three days without our two kids [Manon, four, and Gulliver, three] every February for our anniversary. We walk about the city, and sit in bars drinking rosé.
I only really started cooking when I became a dad. Helen was flat out breastfeeding and sleeping, exhausted all the time. I realised that if I didn't cook, we wouldn't eat. Now I love to cook Gary Rhodes' fishcakes with a lemon butter sauce and green beans. I'm no food connoisseur, though; foodies have palates that can speak hundreds of different languages – mine can only manage about one.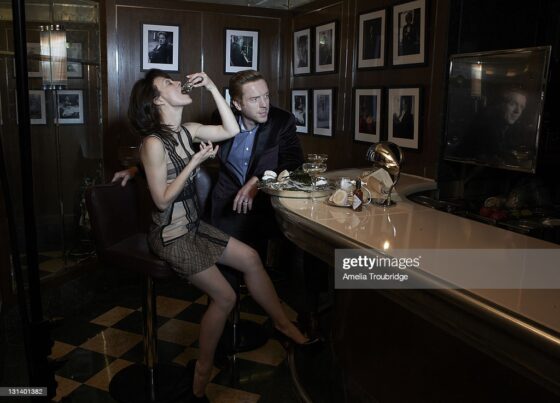 Helen McCrory
The first time I came to Sheekey's was when I was working at the Donmar in 2002 [in Uncle Vanya and Twelfth Night] with Sam Mendes and Kate Winslet and I fell in love with the fish pie. It's since become one of those places that I have visited so many times that it feels like my local pub. I have so many memories of evenings spent here. I look in one corner and think of the first time Brian Selznick came over: we all had dinner here with Scorsese. We're here all the time; last week we saw Sienna [Miller] in Flare Path and all had dinner here afterwards; the week before we were here with Benedict [Cumberbatch] after seeing him in Frankenstein. The other day I bumped into Dom West in the street and we sat at the bar and had Welsh rarebit and a Guinness. When Sienna and I were in As You Like It we used to come every lunchtime and every evening. I would order razor clams with broad beans and chorizo, then fish pie with mushy peas, and finish with Scandinavian iced berries.
When I'm working on stage I rush around a lot, so I can eat more, but when we're filming it's completely different. Basically everyone arrives on the first day at their normal weight and leaves double the size, spines crushed a foot shorter with fat. That's the problem with eating on the Harry Potter set [she plays Narcissa Malfoy]. It's even worse when you're doing a US production – they may have sushi and salad bars in addition to the burgers, but I have seen living proof that you can get fat on salad. That said, Damian and I love eating out twice a week, we always have. Even when the children were really little we'd take them in cots. We were big party animals, but now instead of keeping going until the early hours, we'll be done by midnight and think, 'Wow, what a fantastic evening.' It's an age thing; quite frankly, we don't have the staying power we used to.
Read the rest of the article here.