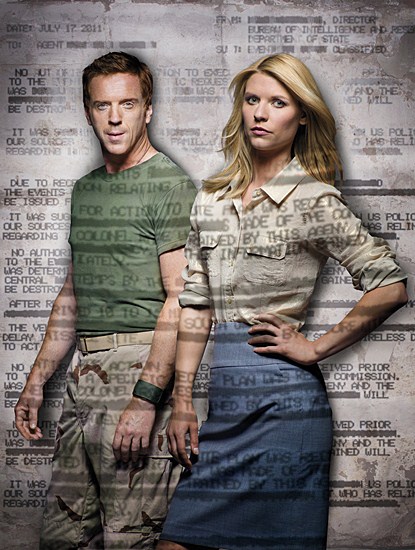 Damian Lewis is fabulous as Sgt. Brody. Brody is obviously hiding
something, actually many things, and Lewis plays this cool strong
character to perfection — from the shifty eyes, which are normally a
mesmerizing blue and oh so easy to fall right into, to the facial
expressions and body movements he employs. I first fell in love with
Lewis during his stint as Charlie Crewes on Life, a TV series that ran from 2007-2009. In Life,
Crewes, a police officer, returns from a 12-year prison stint after
being wrongly convicted of a murder. It is interesting that in both
roles, he returns from captivity to find things are not what they were
when he went away.
5. "Homeland"

It took a strong, suspenseful script, but Emmy and Golden Globe winner Claire Danes was wooed back to series television for "Homeland," the final program to make our list.

"I think there's just so much liberty that one has in cable," Claire said recently at the TCAs of signing on for the drama. "You get to curse a lot. You get to get naked a lot… I think that that's more appealing than the relatively moderate work hours. It's just the creative flexibility."

In Showtime's hour-long drama, Claire stars as Carrie Mathison, an unconventional CIA agent, suspicious of the return of Sergeant Nicholas Brody, a marine who was rescued in Afghanistan, eight years after he had been presumed dead.

It's British actor and former "Band of Brothers" star Damian Lewis who plays Sergeant Brody, a man struggling to readjust to life back home with his wife Jessica –"V's" Morena Baccarin – while keeping a host of secrets.

"For me, it just gets better and better," Damian commented at the TCAs of his new gig on "Homeland." "In England, we can't make this kind of TV. We don't have the resources… We don't have film and TV language in our DNA in the same way you guys do here. And the big concept in telling it compellingly, entertainingly, but in a psychologically real way and a complex way is something we just ‑‑ we don't come up with as often as you guys do. So for me to be here is a thrill."
3. Homeland (premieres 10/2 at 10 p.m. on Showtime): The first series from new Showtime president David Nevins seems to be a departure for the premium cable network best known for Dexter and its high-concept half-hour "comedies." Homeland, starring Claire Danes as a CIA analyst who suspects a recently freed Iraqi POW (Damian Lewis) of having been turned by the terrorists who held him captive, is getting good early reviews from critics and seems to be one of the few bright spots on an otherwise dull fall schedule, with much of that due to the cast (also including Morena Baccarin and Mandy Patinkin) and the guidance from former 24 producers Howard Gordon and Alex Gansa. If 24 represented our approach to terror in the immediate aftermath of 9/11, maybe Homeland will reflect the changes in that approach ten years later. [And, like New Girl, the pilot is already available online.]
"Homeland" (10 p.m., Showtime, Oct. 2): A CIA operative (Claire Danes) suspects that a recently released POW (Damian Lewis) may have been turned and is prepared to aid the terrorists. Is she right — or just crazy? Bottom line: A relentlessly gripping thriller that prefers mind games over gunplay.
You can also find online the pilot episode for Showtime's "Homeland," which debuts in October. It's probably the best pilot I've seen this season.

Based on an Israeli TV series, "Homeland" centers around a pill-popping CIA analyst (Claire Danes) who suspects that a recently returned Marine (Damian

Lewis) has secretly been converted to a terrorist. Is she correct? What did happen to the marine during his eight-year capture? The excellent cast is rounded

out with the likes of Mandy Patinkin and Morena Baccarin, and is something I'd list as

"can't miss."
Q. What's the best new show that's coming this fall?

A. I'm really high on Showtime's "Homeland'' – at least based on seeing one episode. It has Claire Danes as a bipolar CIA agent who thinks Damian Lewis's

just-released POW has been turned by Al Qaeda. So she's convinced the guy is a terrorist, while he is being hailed as an American hero. But people dismiss

her because of her psychological issues.
Homeland is so chilling, you should probably buy a special Snuggie just to watch it. (They sell them in camouflage if you want to be theme appropriate.) Oh,

and maybe some psych meds. That'd be appropriate too.

In one of fall's most promising—and spine-tingling—new dramas, Showtime's Homeland unites Band of Brothers and Life star Damien Lewis with Claire Danes.

Yeah, you heard us: Damien freaking Lewis and Claires freaking Danes.

Is this show as crazy good as it already sounds?

The answer:

And how. Here's the skinny…
In October, two new shows are coming that you absolutely must watch — but they're coming on cable. One is Showtime's Homeland, which stars Damian Lewis, from

Band of Brothers and Life. He plays an American POW rescued after years of captivity. He returns as a hero, but a CIA agent, played by Claire Danes, suspects

him of having been turned, and actually being a double agent for al-Qaida. Only one of them is the real hero of this series — and for a while, at least, we

don't know which. This unusual drama comes from some of the producers of 24, and the pilot is wonderful.
"Homeland" (9 p.m. Sundays, Showtime; Oct. 2): Claire Danes delivers another tour de force performance as a CIA agent who is convinced that the American

soldier (a chilling Damian Lewis) discovered in Afghanistan after being MIA for eight years has been turned by al-Qaida and poses a deadly threat to our

country.
Homeland (Showtime, Oct. 2). Claire Danes is a CIA agent and Damian Lewis a formerly missing soldier who may or not be an instrument of terrorism. But all

you really need to know is: Claire Danes. Damian Lewis.