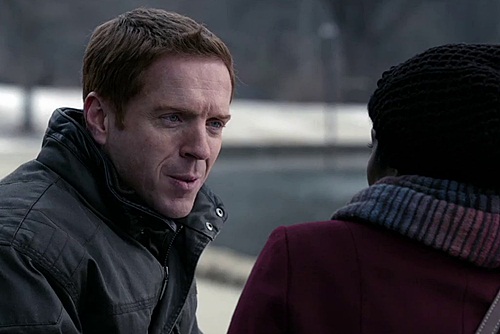 Question: Besides waiting for the premiere of Dexter, any feedback on Homeland, also premiering the same night on Showtime? – Mike

Matt Roush: I'm reviewing Homeland in the issue of TV Guide Magazine that will be out this week (also mentioning Dexter and the new season of Luther in a discussion of "TV's Tortured Heroes"), and I'll be posting a review online closer to the Oct. 2 premiere date. I've seen the first three episodes of Homeland and Dexter this season, and while I'm not sold yet on Dexter — it's beginning to feel awfully routine, and this season's theme of faith is very heavy-handed — I am very high on Homeland, which is hands-down the best new drama on TV this fall. Damian Lewis is electrifying as a Marine returning home from eight years in Al-Qaeda captivity, and Claire Danes is his match as an unstable CIA analyst who suspects he may be a sleeper-agent terrorist in war-hero disguise. He's a wreck, she's a mess, and Homeland is riveting. There's also some good work here from Morena Baccarin as Lewis's conflicted wife and Mandy Patinkin as Danes' understandably concerned mentor. Can't wait for people to see this one.
The acting is flawless. Hopefully Damian Lewis finally earns an Emmy for this role, he's certainly deserved one for his previous works. And this is a very different Claire Danes. She's all grown up and holy shit can she still act. You won't even think of Angela Chase while watching her here. Baccarin who also did amazing work on Firefly that went unrecognized by any kind of awards just kills this role.
Similarly Lewis as Brody is a measure of a man with a lot riding around on his chest and in his mind. He is seemingly pretty well adjusted for a man who is thrust back into society after years of savagery. Or is he? One moment he is comforting his wife (Morena Baccarin), who is distraught over the scars on his body from repeated lashings, and the next he takes years of pent up anger and frustration out on her during an aggressive sexual encounter. He is a man of few words, which is to be expected, but through a few strategically placed flashbacks we get a glimpse at what horrors lie beneath.
"Homeland": The last time Claire Danes headlined a small-screen series she played an awkward teenager during the mid-'90s in "My So-Called Life." So good! In Showtime's new psychological thriller "Homeland," Danes plays a bipolar CIA agent who catches the scent of Scott Brody (Damian Lewis, "Band of Brothers"), a Marine who has recently reappeared after going missing in Iraq eight years earlier. Danes' character finds herself at the center of a complicated and potentially dangerous post-9/11 investigation in which her intelligence and all the political players involved aren't always what they seem. The strong supporting cast includes Mandy Patinkin ("Criminal Minds") and Morena Baccarin ("V"). 10 p.m. Sundays, Showtime. Debuts Oct. 2.